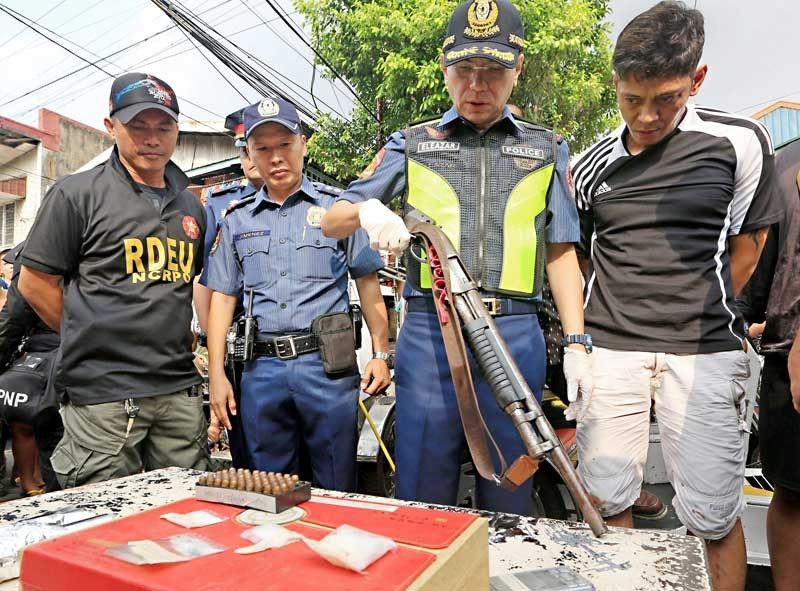 Maj. Gen. Guillermo Eleazar questions Benedict Carpio, a son of a barangay captain in Manila, following his arrest yesterday.
Edd Gumban
Village chief's son, salon owner held for drugs
Rey Galupo
(The Philippine Star) - May 25, 2019 - 12:00am
MANILA, Philippines — A son of a barangay captain in Manila and the owner of a salon in Quezon City were arrested for illegal drugs in separate operations since Thursday.
Benedict Carpio, 31, was served a search warrant at his house on Molave street in Barangay 228 at around 4:40 a.m. yesterday by a joint team from the National Capital Region Police Office (NCRPO) drug unit, Manila Police District's special weapons and tactics unit and the MPD Station 7.
The operation stemmed from the weeks-long surveillance on Carpio, reportedly one of the sources of illegal drugs in the area, according to NCRPO chief Maj. Gen. Guillermo Eleazar.
Police officers recovered more than 50 grams of methamphetamine hydrochloride or shabu with a street value of P340,000, a shotgun, 48 shotgun cartridges and drug paraphernalia.
Eleazar said Carpio is a son of Barangay 228 chairman Ricardo Cortez. Both men are on the NCRPO's drug watchlist and are considered high-value targets, he added.
Carpio was charged with drug pushing and drug possession as well as violating the comprehensive law on firearms and ammunition and the election-related gun ban.
In Quezon City, salon owner Johairah Wali, 33; Edgar de Asis, 30; and Ernilito Reyes, 46, were arrested in a drug bust along Commonwealth Avenue in Barangay Batasan at around 4:15 p.m.
Police officers were able to buy P10,000 worth of shabu from the suspects, the Quezon City Police District reported.
At least 125 grams of shabu with a street value of P820,000, a motorcycle and marked money were confiscated from the suspects. – Romina Cabrera