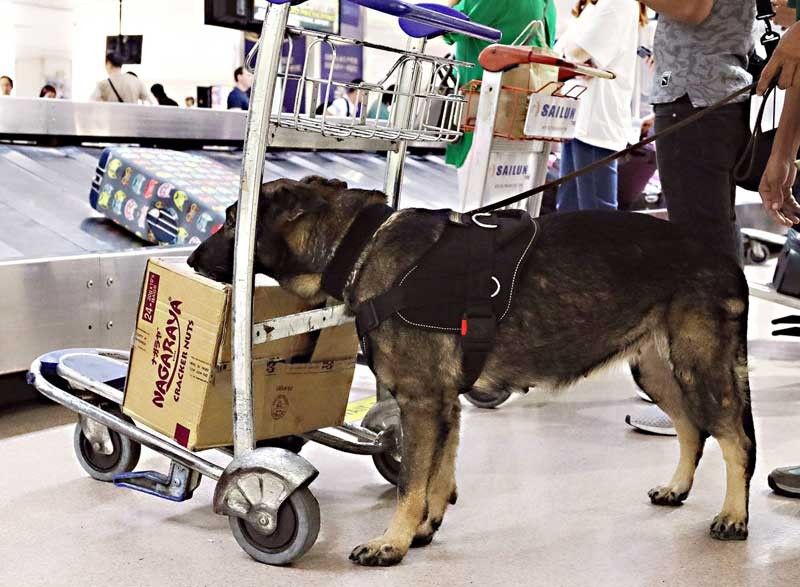 MEAT SNIFFER: The Bureau of Animal Industry has deployed several meatsniffing dogs at the NAIA to prevent passengers from bringing in fresh animal meat that could cause the spread of the deadly swine fever.
Rudy Santos
Meat-sniffing dogs deployed to curb swine flu spread
Rudy Santos
(The Philippine Star) - May 25, 2019 - 12:00am
MANILA, Philippines — The government has deployed meat-sniffing dogs to check if travelers passing through the Ninoy Aquino International Airport (NAIA) smuggled fresh animal meat into the country, in a bid to prevent the spread of African swine fever (ASF).
The deployment of three meat-sniffing dogs at the airport is on a trial run, Bureau of Animal Industry (BAI) director Ronnie Domingo said Thursday.
"The BAI has not yet set the date for the formal deployment of the rest of the meat-sniffing K-9s in NAIA," Domingo told reporters.
Millions of pigs were culled across Asia since African swine fever was first reported in China – the world's largest pork producer and consumer – in August 2018.
The ASF virus spreads easily between pigs, which can also catch it from ticks, contact with contaminated surfaces or by eating infected food. The death rate is at least 90 percent.
On Thursday, the Department of Agriculture (DA) announced at the airport it is going to deploy 15 dogs trained to detect meat at all international airports this month to prevent the entry of products possibly contaminated with ASF.
The DA move, Domingo said, was aimed "to secure the P250-billion swine industry in the country."
If caught, violators of the meat quarantine protocol are liable for penalties ranging from P50,000 up to P200,000.
Imported meat products will be allowed in the country if the importers have secured a phyto-sanitary permit from the port of origin or the meat will be confiscated and destroyed, Domingo said.
The DA said the countries affected by ASF are China, Vietnam, Japan, Cambodia, Latvia, Poland, Hungary, Belgium, Romania, Russia, Ukraine, Bulgaria, Czech Republic, Moldova, South Africa and Zambia.
ASF viruses can survive for 1,000 days even in frozen meat, according to Domingo.