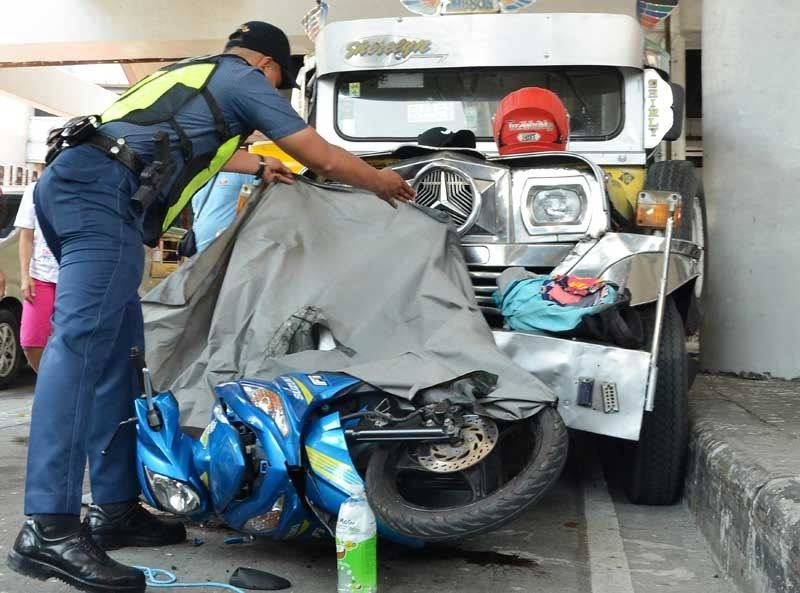 A police officer throws a tarpaulin on top of the body of teacher Bienvenido Luha following an accident in Sta. Mesa, Manila yesterday morning.
Edd Gumban
Teacher dead, 2 hurt in 3-vehicle smashup
Rey Galupo
(The Philippine Star) - May 21, 2019 - 12:00am
MANILA, Philippines — An elementary school teacher died while two others were severely injured after a passenger jeepney slammed into his motorcycle and a van in Sta. Mesa, Manila yesterday morning.
Bienvenido Luha, of Rosauro Almario Elementary School in Tondo, died at the scene after he was pinned between the jeepney driven by Fernando Florida and the van driven by John Lee Espiritu at the corner of R. Magsaysay Boulevard and Pureza street at around 10:46 a.m.
Espiritu told police he was cruising on the street when he heard something hit his van's rear end.
Florida said he lost control of the vehicle after his brakes failed.
A security guard and another man are being monitored at an undisclosed hospital, according to the Manila Police District's traffic enforcement unit.
Traffic was stalled for almost two hours along R. Magsaysay Boulevard while traffic enforcers worked to remove the vehicles involved in the mishap.
Florida was arrested and faces charges of reckless imprudence resulting to homicide and multiple physical injuries.