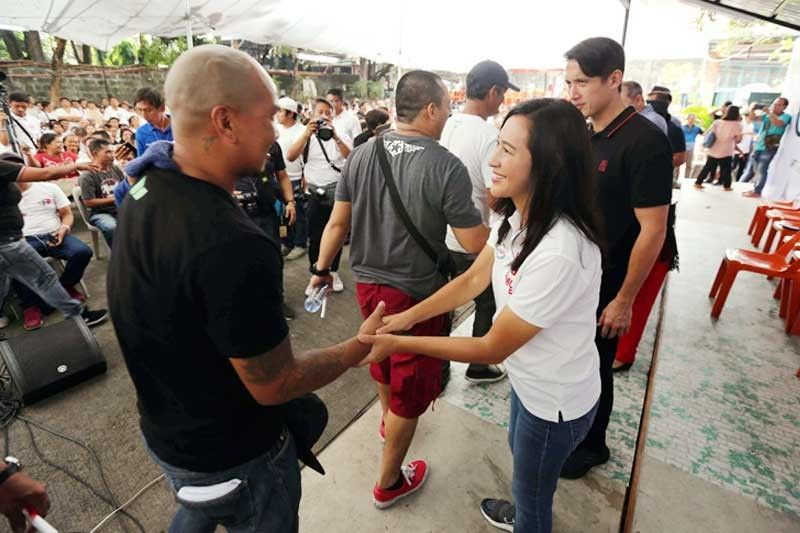 Quezon City Vice Mayor Joy Belmonte and Councilor Gian Sotto, candidates for mayor and vice mayor, respectively, congratulate the graduates of the city's drug rehabilitation program yesterday.
Boy Santos
574 complete Quezon City's drug rehab program
MANILA, Philippines — A total of 574 drug surrenderees have completed the community-based drug rehabilitation program of the Quezon City government.
Vice Mayor Joy Belmonte yesterday led the ceremony for the fourth batch of graduates who finished the rehabilitation modules and counselling.
Belmonte, head of the city's anti-drug abuse and advisory council, said the latest batch brought to 2,840 the total number of drug surrenderees who underwent rehabilitation.
She urged those who completed the rehab program not to use drugs again.
"I salute you and admire your families for their commitment to support you," Belmonte said. "I will continue to support you in your determination to change."
The vice mayor said they would help the former drug dependents find jobs.
They will be given training programs by the Technical Education and Skills Development Authority, Belmonte said.
She said they would continue to monitor those who finished the drug rehabilitation program to ensure a low relapse rate.
Around 16,000 drug users in Quezon City have surrendered to authorities since 2016.