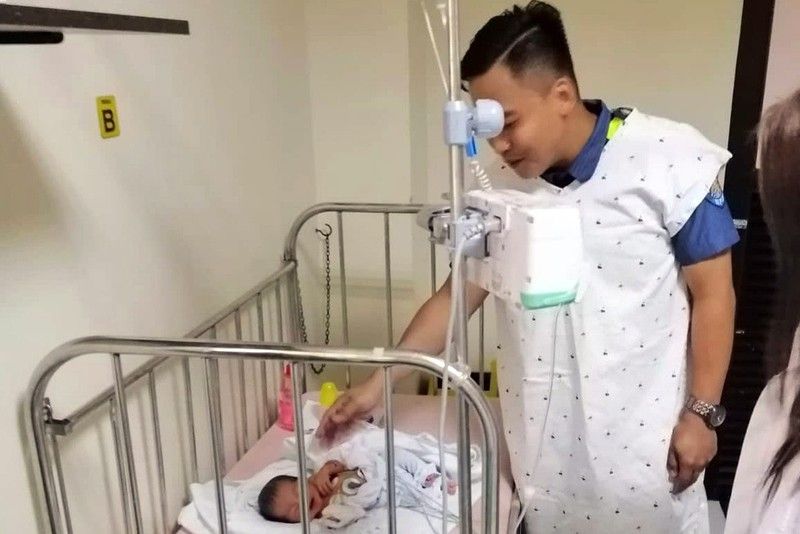 Capt. Jeraldson Rivera visits Mateo Doe at the Caloocan City Medical Center yesterday.
Rey Galupo
Caloocan cops get praise for saving newborn
Rey Galupo
(The Philippine Star) - May 6, 2019 - 12:00am
MANILA, Philippines — The Caloocan police has been receiving praises from netizens after two of its policemen saved the life of a newborn boy who was abandoned before dawn Thursday.
Capt. Jeraldson Rivera, Police Community Precinct 7 commander, said Police Corporals Mardo Nicolas and Eddie Torres were on foot patrol on Tangke Road in Barangay 157 when they heard a baby crying around 3:15 a.m.
"From the looks of it, the baby had just been delivered because the umbilical cord and placenta were still intact and the blood was fresh. The two officers immediately called me and asked for a backup vehicle and rushed the baby to the Lucas Maternity Clinic," Rivera told The STAR.
After receiving medical attention, the baby was brought to the Caloocan City Medical Center.
"Doctors said had the police been late even for a few minutes the baby would have died. It was an act of divine providence," a teary-eyed Rivera said.
Col. Restituto Arcanghel, city police chief, commended Rivera and his men but immediately ordered a follow-up operation to identify the mother or the person who abandoned the baby and file appropriate charges against them.
Arcanghel also lauded local social welfare development staff and officials from Barangays 156 and 157 who were present at the hospital.
Rivera visited the baby boy at the hospital yesterday and named him Mateo Doe because he was born on May 2.
He said he and Arcanghel are willing to act as godfathers if Mateo is baptized.
"The social welfare department will take care of Mateo but the Caloocan police will always be there for him when he grows up. I just hope that one day he will become a policeman also," Rivera said.