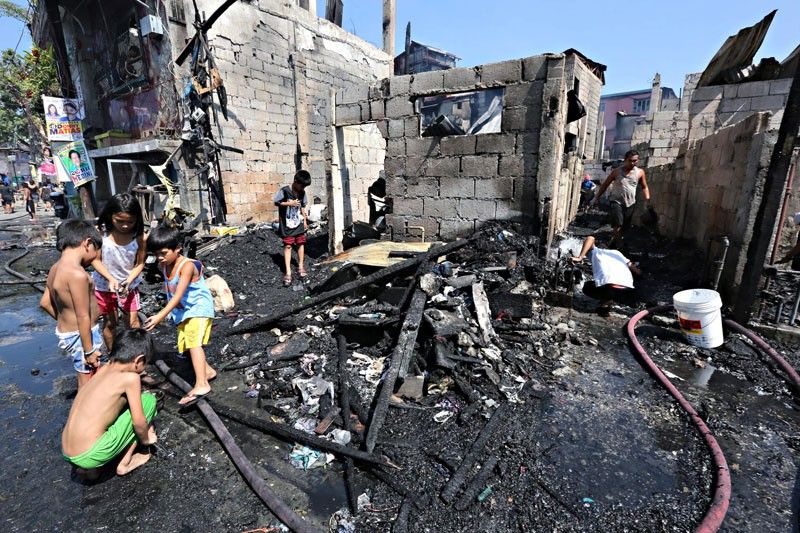 Children play as their relatives search through the remains of their houses following a fire in Barangay Apolonio Samson, Quezon City yesterday.
Boy Santos
Fire leaves 100 Quezon City families homeless
MANILA, Philippines — A fire that lasted more than six hours left at least 100 families homeless in Quezon City yesterday.
The blaze started at a two-story house along Tabing Ilog street in Barangay Apolonio Samson at around 12:18 a.m.
Fire officials said the blaze reached fourth alarm and razed 50 houses, causing an estimated P250,000 in structural damage, before it was put out at around 6:48 a.m.
Joshua Reblando, 26, sustained lacerations on his right knee during the fire, the cause of which is still under investigation.
Church, perfume factory hit
In Manila, a fire broke out at the Sta. Cruz Church on Friday.
Janitor Illoises Cornel said the fire started at the candle stand in the Chapel of Saints at around 5:45 p.m. and was put out around 20 minutes later, according to police.
No other structures were razed in the fire.
In San Juan, a fire gutted a perfume factory along R. Lagmay street in Friday night, officials said yesterday.
Arson investigators said the fire started at around 11 p.m. and reached second alarm before it was put out at past midnight.
No one was injured or killed but the estimated damage caused by the fire was pegged at around P350,000. – Romina Cabrera, Robertzon Ramirez