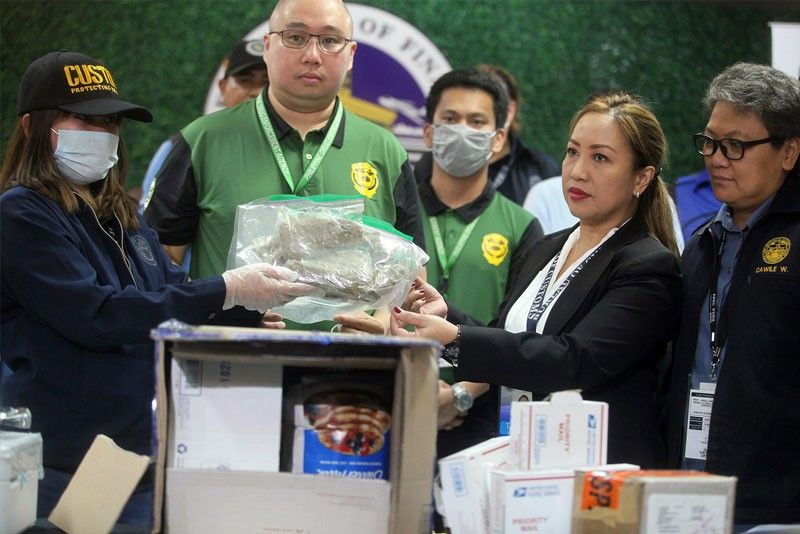 Customs and PDEA officials examine the illegal drugs seized at the NAIA yesterday.
Rudy Santos
P2-million drugs seized at NAIA
Rudy Santos
(The Philippine Star) - April 18, 2019 - 12:00am
MANILA, Philippines — Agents of the Bureau of Customs (BOC) confiscated yesterday around P2 million worth of illegal drugs in five separate packages at the Ninoy Aquino International Airport (NAIA).
The BOC said the drugs were profiled by Customs examiners and underwent K9 sweep by the Philippine Drug Enforcement Agency (PDEA).
The seized drugs include shabu concealed in an envelope sent by JC Crisostomo, of Marilao, Bulacan, for Abraham Salas Jr. of Bahrain.
Authorities also confiscated P1.7 million worth of Ecstasy tablets from the Netherlands. The drug shipment was consigned to Cristian Chan, of San Juan City.
Two shipments of dried marijuana leaves declared as pancake mix, gummy candies and lotion were intercepted at the Central Mail Exchange Center.
The parcels originated from the United States and consigned to Steven Marple, of Antique, and Betty Lu of LCG Marketing in Cagayan de Oro.
Another shipment of cocaine declared as toys from the United States was seized at the NAIA. It was consigned to Jose Maristela, of Makati.
Port of NAIA district collector Mimel Talusan said a passenger brought in drugs supposedly for asthma, but was listed as a dangerous substance by the PDEA.
Talusan appealed to the public to check first with the PDEA the list of banned drugs in the country.
"Marijuana may be legal in other countries but not here in the Philippines," she said.
Talusan said the BOC has intercepted P370 million worth of illegal drugs at the airport since 2018.
Nine drug shipments were intercepted by BOC personnel at the NAIA from January to March this year.