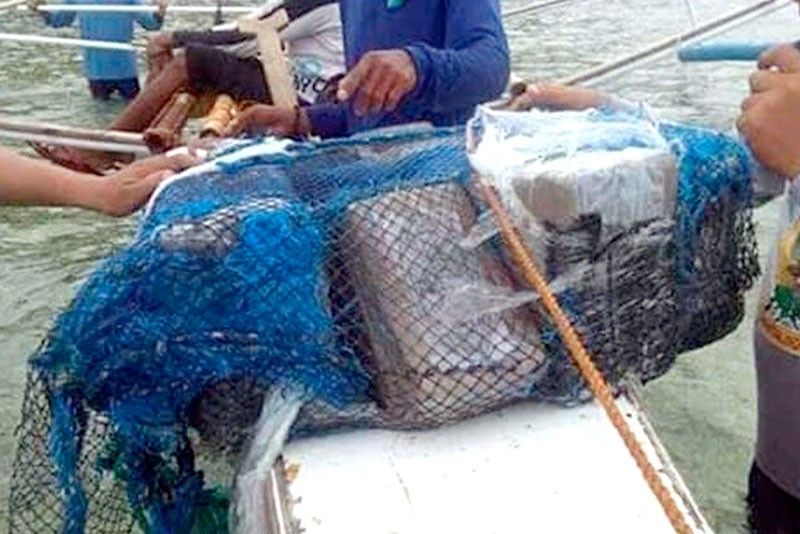 The cocaine bricks recovered in the waters off Surigao del Norte on Sunday are shown in this photo courtesy of the Caraga police.
P257.4-million cocaine bricks seized off Surigao Norte
MANILA, Philippines — At least 40 cocaine bricks with an estimated value of P257.4 million were fished out from the waters off Burgos, Surigao del Norte on Sunday.
Brig. Gen. Gilbert Cruz, Caraga police director, said fishermen found the cocaine bricks around two kilometers away from the shore of Barangay Poblacion at around 4:30 p.m.
Police said the cocaine bricks, which were wrapped in packing tape, weigh 48.5 kilos.
The Philippine Drug Enforcement Agency (PDEA) said a kilo of cocaine is worth P5.3 million.
Cruz said the bricks have"3B Bugatti" markings, which are similar to those recovered in Barangay San Pacifico, San Isidro also in Surigao del Norte last February.
The cocaine bricks were turned over to the Burgos police for safekeeping before it will be turned over to the Philippine National Police
Crime Laboratory Caraga office for examination.
More than 100 kilos of cocaine have been recovered in the waters off Davao Oriental, Nueva Ecija, Quezon, Camarines Norte, Catanduanes, Surigao del Sur as well as Dinagat and Siargao islands since last month.
Those recovered in Camarines Norte and Quezon were marked "Lexus."
Police said the use of European luxury brands is an indication that the illegal drugs have the same manufacturer.
PDEA director general Aaron Aquino said international drug rings could be using the Philippines as a transshipment point of cocaine.
Aquino said drug rings could be dumping the cocaine bricks for recovery by their cohorts or to avoid detection by authorities.