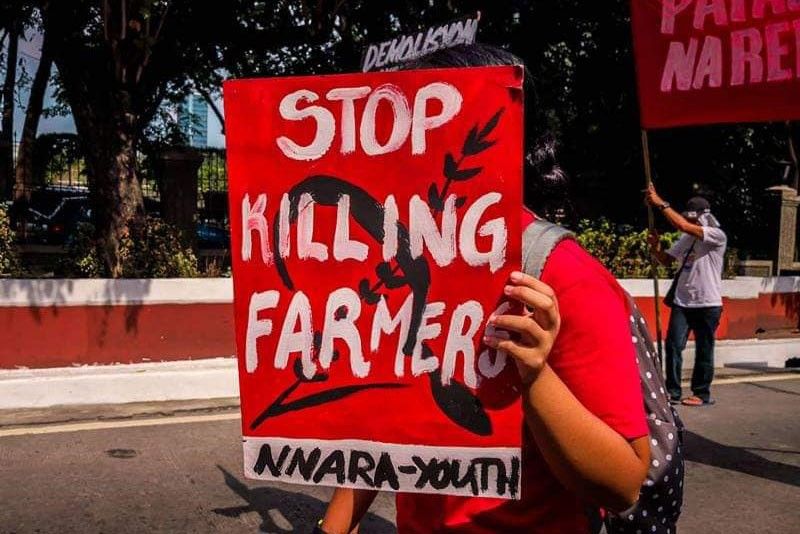 Eight of those killed were farmers, two were barangay captains and another a lay minister.
KMP FB Page
Palace justifies killing of 14 people in Negros Oriental police operations
MANILA, Philippines — The simultaneous police operations that resulted in the killing of 14 people in Negros Oriental were "legitimate," Malacañang said yesterday.
Presidential spokesman Salvador Panelo also denied that the government is targeting farmers with alleged ties with communist rebels, saying the fatalities engaged law enforcers in shootouts.
Eight of those killed were farmers, two were barangay captains and another a lay minister.
"Those are legitimate police operations. The search warrants were issued by a competent court... (The suspects) fought with law enforcers and were killed... Twelve... were arrested and are now undergoing legal process," Panelo told a press briefing.
"The fact remains that the ... people with search warrants have been identified as suspects in... ambushes, assassinations and assassination attempts... (The) police operations are backed up by documents... The courts believed in them that's why they issued the warrants," he added.
Philippine National Police chief Gen. Oscar Albayalde said the wounding of a police officer is proof that there was a firefight.
"It's not true that it was a massacre. These happened in various places," Albayalde said.
The Kilusang Magbubukid ng Pilipinas (KMP) said it would hold a rally in protest of the killings.
"We strongly condemn this massacre. In a single sweep, police killed eight farmers in Kanlaon City, four in Sta. Catalina and two in Manjuyod. Several more civilians were arrested and planted with... evidence," KMP chairman emeritus and Anakpawis president Rafael Mariano said.
Hundreds flee homes
In Negros Occidental, more than 200 residents of Sitios Santos-Santos and Lomlon in Barangay Quintin Remo, Moises Padilla town evacuated their homes as government troopers clashed with New People's Army (NPA) rebels suspected of killing Councilor Jolomar Hilario on Sunday.
Authorities said the rebels suffered an undetermined number of casualties in the encounter.
At least 50 NPA guerrillas reportedly surrounded the house of Hilario in Barangay Inolingan on Sunday and opened fire.
Brig. Gen. John Bulalacao, Western Visayas police director, said Hilario was a known ally of Moises Padilla Mayor Magdaleno Peña, who was instrumental in the recent arrest of National Democratic Front consultant Francisco Fernandez.
Prior to the attack, probers learned that Hilario received death threats, but did not report these to authorities.
Meanwhile, an NPA rebel was killed in a gunfight with soldiers in Cabadbaran City, Agusan del Norte over the weekend.
Soldiers said four rifles were recovered at the scene.
Reds surrender
As this developed, 45 NPA rebels operating in Laguna, Rizal and Quezon surrendered over the weekend.
Brig. Gen. Edward Carranza, Calabarzon police director, said the rebel returnees turned over their guns, ammunition, explosives and subversive documents.
Carranza said one of the surrenderees admitted that he was with the group of rebels who ambushed Special Action Force commandos in Antipolo City, Rizal in 2009.
Lt. Col. Mario Baquiran, Negros Occidental Mobile Force Company commander, said 27 former members of the NPA's Yunit Militia surrendered in Negros Occidental on Sunday.
Baquiran said the surrender followed a series of dialogues with police and military personnel as well as relentless government operations in the area.– Gilbert Bayoran, Ed Amoroso, Michael Punongbayan, Rhodina Villanueva, Jennifer Rendon, Rainier Allan Ronda