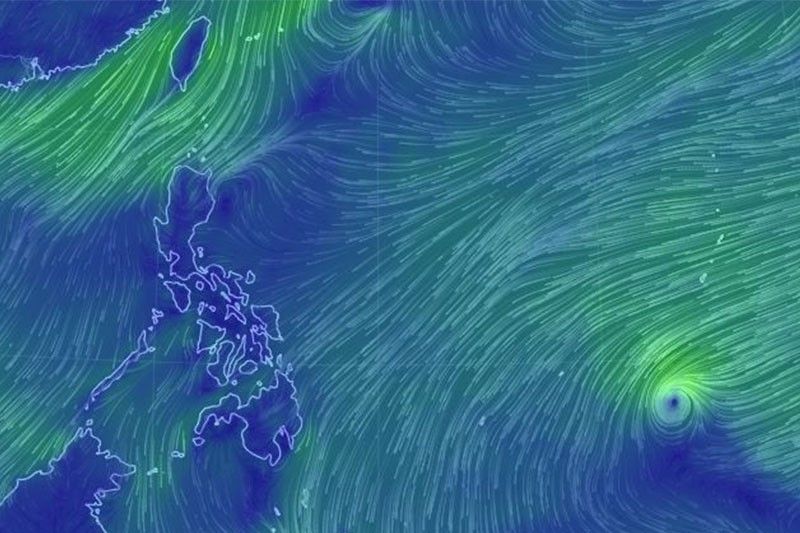 The low pressure area outside the Philippine area of responsibility due south of Guam has developed into a tropical depression
earth.nullschool.net
Tropical depression off Guam may enter PAR over the weekend
MANILA, Philippines — The low pressure area south of Guam has intensified into a tropical depression and may enter Philippine area of responsibility over the weekend.
State weather bureau PAGASA said the weather disturbance may enter the country's jurisdiction between Saturday evening and Sunday morning.
The tropical depression will be named "Chedeng" once it enters the Philippines.
At 2 p.m., the tropical depression was located 1,910 kilometers east of Mindanao with maximum winds of 45 kilometers per hour and gusts of up to 60 kilometers per hour. It is forecasted to move west at 20 kilometers per hour.
"Scattered to at times widespread heavy rains may be experienced over the provinces in the eastern section of Mindanao on Monday and Tuesday due to this weather disturbance," PAGASA said in its 1 p.m. advisory.
The weather disturbance might make landfall over the eastern section of Monday or Tuesday but this is "not the most likely scenario," according to PAGASA.
Residents in Mindanao, especially those living in areas prone to flooding and landslides, are being advised to continue monitoring for updates.
Forecast positions
Saturday morning: 1,330 kilometers east of Hinatuan, Surigao del Sur
Sunday morning: 835 kilometers east of Hinatuan, Surigao del Sur
Monday morning: 330 kilometers east of Hinatuan, Surigao del Sur