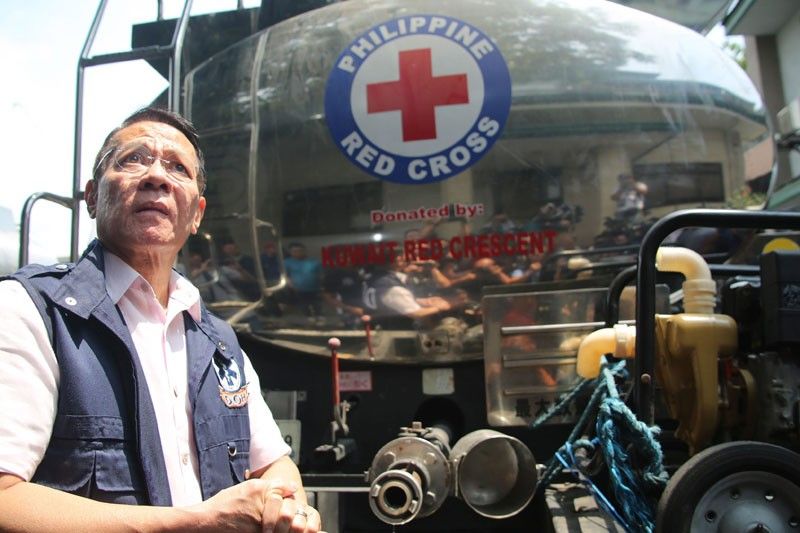 DOH secretary Francisco Duque III looks on to the Rizal Medical Center hospital tank as Red cross fills the tank.
Michael Varcas
DOH: 5 government hospitals 'back to normal'
MANILA, Philippines — Five government hospitals affected by the water supply interruptions have returned to their normal operations, the Department of Health (DOH) reported yesterday.
"The operations are now back to normal and they are no longer limiting the number of their patients," Health Secretary Francisco Duque said in a radio interview.
Duque noted that Manila Water Services Inc. has agreed to prioritize and supply water to the hospitals each day.
"If they cannot supply the normal volume, we asked for even just half of it because water is really necessary in the hospital operations," he said.
He directed hospital officials to store water and coordinate with water concessionaires.
Low water pressure has affected the operations of Rizal Medical Center, National Center for Mental Health, National Kidney and Transplant Institute (NKTI), Philippine Children's Medical Center and Quirino Memorial Medical Center.
Duque also imposed a policy of "one watcher per patient" to address the water crisis.
"Can we please limit the watchers of your patients to one? We hope you will understand our situation," he appealed to relatives of hospital patients during a visit at the NKTI yesterday.
NKTI executive director Rose Marie Liquete said the hospital is now using peritoneal dialysis for patients instead of hemodialysis, which requires a significant amount of water.
The NKTI serves an average of 280 hemodialysis patients compared to 30 peritoneal dialysis patients.
More dialysis patients are now going to the NKTI on the recommendation of independent dialysis centers.