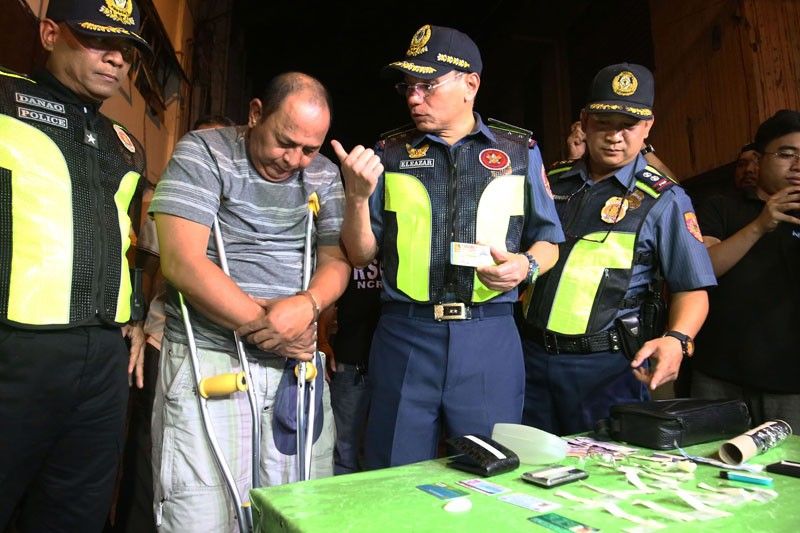 NCRPO chief Police Major General Guillermo Eleazar and Manila Police District Chief Vicente Danao confronts Patrolman (PO1) Ferdinand Cruz Rafael following his arrest for illegal drugs at his residence in Sampaloc, Manila on Friday midnight.
Miguel de Guzman
Cop arrested in Manila drug sting
MANILA, Philippines — A policeman, who was caught on video using methamphetamine hydrochloride, was arrested in a drug sting in Manila on Thursday night.
Police Officer 1 Ferdinand Rafael, 52, did not resist when cornered at Room B of an apartment at the corner of Calabasita and Calabash streets in Sampaloc at around 11 p.m.
Superintendent Rogarth Ocampo, who heads the Regional Special Operations Unit of the National Capital Region Police Office, said he placed Rafael under surveillance after receiving reports he frequented Room B to sell illegal drugs.
RSOU personnel caught Rafael on video using methamphetamine hydrochloride or shabu, Ocampo said.
Fifteen grams of shabu with a street value of P102,000, a digital weighing scale and drug paraphernalia were seized from Rafael.
Rafael joined the Special Action Force (SAF), the fighting unit of the Philippine National Police, in 1995. He went AWOL or absent without leave during his SAF commando training.
He was reinstated in 2002 and charged with an administrative case for being AWOL. He was later suspended.
He was assigned in Caloocan City before his present assignment at the Manila Police District's administrative holding unit.
1 dead in Taguig bust
Meanwhile, a drug suspect was killed in a shootout during a drug sting in Taguig City Thursday night.
Alex Abdul, alias Manila Boy, was shot in the sting along Famela street in Barangay South Signal Village.
The operation was set up by the operatives of the Quezon City Police District (QCPD) and the Philippine Drug Enforcement Agency.
QCPD director Chief Superintendent Joselito Esquivel said the operation stemmed from a sting in Cubao last month wherein the arrested suspects identifie Abdul as their source of illegal drugs.
Abdul died at the scene after he allegedly engaged lawmen in a firefight.
Five of his companions were arrested: Jenny Lynne Poja, 31; Maria Cristina Barrera, 28; Romeo Santizas, 41; Marissa Cilamor, 30, and Mark Ronnel Padilla, 20.
Seized during the operation were 312 grams of shabu with a street value of P2.1 million, a para Ordnance caliber .45 handgun, two cell phones, drug paraphernalia and the marked money. – With Romina Cabrera