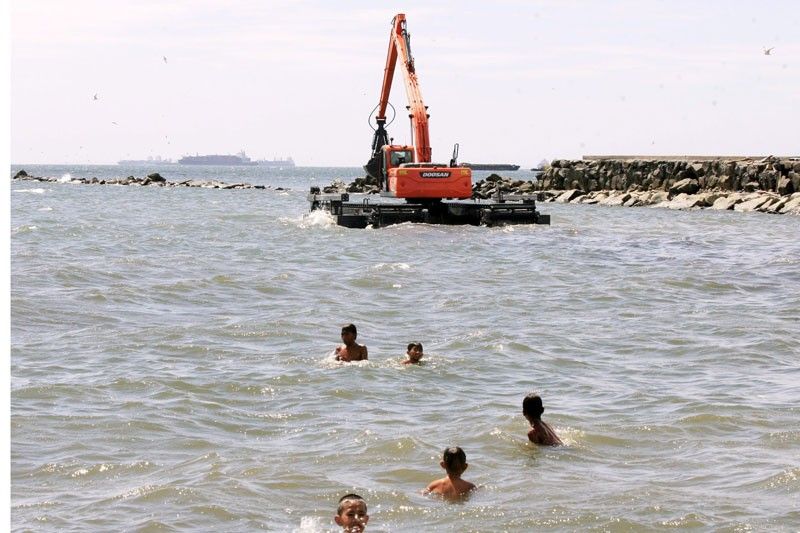 Children swim near an am- phibious excavator desilting the seabed of Manila Bay off Baseco in Tondo, Manila yesterday
Edd Gumban
Duterte forms Manila Bay task force
Alexis Romero
(The Philippine Star) - February 22, 2019 - 12:00am
MANILA, Philippines — President Duterte has formed a task force that would implement and fasttrack the rehabilitation of Manila Bay.
The creation of the task force is contained in Administrative Order No. 16 signed by the President on Feb. 19.
"The convergence of national government agencies and LGUs (local government units) in the Manila Bay Region, and their active participation, are necessary to facilitate the robust and integrated implementation of all rehabilitation and restoration efforts at the Manila Bay," the order read.
Environment Secretary Roy Cimatu was named chairman of the Manila Bay Task Force while Interior and Local Government Secretary Eduardo Año and Tourism Secretary Bernadette Puyat were designated vice chairpersons.
Members of the task force were the heads of public works, health, and agriculture departments, the Housing and Urban Development Coordinating Council, Metro Manila Development Authority, Pasig River Rehabilitation Commission, Local Water Utilities Administration, Manila Waterworks and Sewerage System, Philippine National Police maritime group, Philippine Coast Guard, Philippine Ports Authority, and representatives of water concessionaires Manila Water and Maynilad.
The panel was tasked to enforce provisions of the sanitation code and require all establishments and households to immediately connect existing sewage lines to available sewerage systems or treatment plans or construct individual treatment plants.
It was also directed to undertake remedial measures to improve the water quality of Manila Bay and collaborate with the National Anti-Poverty Commission, Presidential Commission for the Urban Poor, National Housing Authority and affected local governments in preparing a comprehensive relocation plan for informal settlers within 60 days.
The plan will include identification of suitable relocation sites, strategies for economic and social integration of informal settlers and long-term solutions to address migration into the Manila Bay Region.
The Manila Bay Task Force was instructed to expedite a local sanitation program of local governments within the Manila Bay Region by 2026 and fasttrack compliance with the Supreme Court order that directed agencies and private entities to clean-up, rehabilitate, preserve, restore and maintain Manila Bay waters to a level fit for swimming and other recreation.
The task force was directed to ensure that concerned agencies and local governments act on violations of environmental laws, improve resource management of the Manila Bay and collaborate with agencies on massive information and education drive to garner support for the rehabilitation efforts.
The social welfare and labor departments were instructed to provide immediate social welfare assistance to families affected by the clean-up.
"All mayors of the cities and municipality in the NCR (National Capital Region), especially those along the Manila Bay, as well as governors in the provinces of Bataan, Pampanga, Bulacan and Cavite, including the mayors of municipalities and cities within their political subdivisions, shall ensure the implementation of critical environmental laws," Duterte said.
The task force is expected to submit a quarterly report on the implementation of the order. – With Rhodina Villanueva