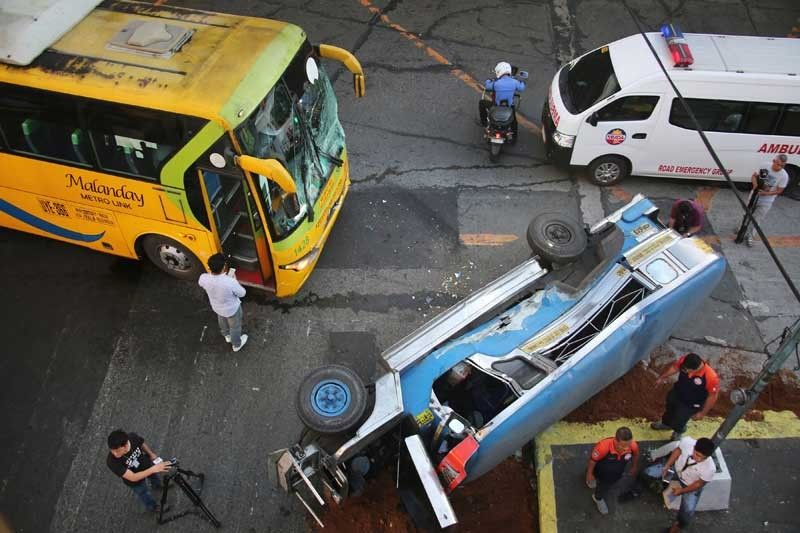 A passenger jeepney lies on its side following a collision with a bus at the intersection of EDSA and Timog Avenue in Quezon City yesterday.
Michael Varcas
13 hurt as bus rams jeepney
MANILA, Philippines — At least 13 persons were injured when a bus crashed into a jeepney along EDSA in Quezon City yesterday.
The jeepney reportedly beat the red light as it crossed the intersection of EDSA and Timog Avenue at around 6:30 a.m.
The jeepney, driven by Ignacio Cadayday, 27, turned on its side after it was hit by the Malanday Metrolink Bus Corp. bus.
Cadayday and bus driver Allan Marino, 38, suffered minor injuries.
Also hurt were Angel Lance Lucena, 19; Annabel de la Cruz, 39; Norhaya Sentian; Josef Gilburt Cadomigara, 25; Gerundio Iraya, 42; Marites Empuesto, 44; Benito Romaga, 41; Marylou Mangote; Koel Sotto, 38; Reynante Buiza, 41; Jhon Kenneth Patron; Edgardo Caresosa, 43, and Rowena Baldonado, 42.
They were taken to the nearest hospital for treatment.
The case is being investigated by the Quezon City Police District Traffic Enforcement Unit Sector 4.