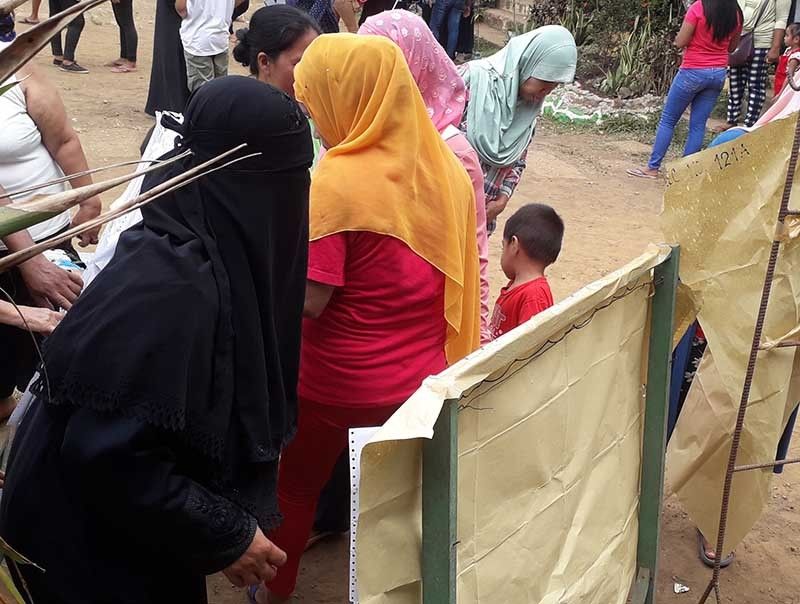 Residents of Isabela City search for their names in the voters' lists posted outside in o e of the voting centers in Isabela City, Basilan Monday.
Roel Pareño
Vote buying, ballot snatching reported in Isabela City
ISABELA CITY, Basilan, Philippines —The conduct of the plebiscite of the Bangsamoro Organic Law in Isabela City was marred by varied complaints, including ballot snatching and vote buying, according to authorities.
But the Commission on Election also reported that 100 percent of polling centers in Basilan, Sulu and Taw-Tawi opened to voters on Monday.
"We are pleased to announce for Basilan, Sulu and Tawi-Tawi we have been able to open the polls at 100 percent as of eight o'clock this morning," said Frances Agundadao-Arabe, Comelec special monitoring head for BaSulTa areas.
Arabe said the polling centers in Basilan (187), Isabela City (38), Sulu (94), and Tawi-Tawi (179) opened on time and that there were no untoward incidents that would have delayed the polls.
But Mary Jane Maalao, 28 and pregnant, complained that an unknown person grabbed her ballot right inside the precinct at the elementary school in Barangay Sumagdang.
She said the suspect tore her ballot outside the precinct before walking away.
"I don't really know why he took and tore my ballot. Perhaps he saw I voted for 'NO'," Maalao said.
RELATED: Tension in Cotabato City as BOL plebiscite kicks off
Police Superintendent William Gadayan, Isabela City Police Station chief, said additional police personnel were immediately sent to the area and that they are trying to track down the person who tore up Maalao's ballot.
Despite the incident, he said the situation remained manageable and peaceful.
Arabe said Maalao would still be allowed to vote since it was not her fault that her ballot was torn.
The Comelec official said the case will be included in the minutes of the plebiscite committee of the affected precinct, which will also record details of the incident and note that Maalao was given another ballot.
"The voter will not be disenfranchised. She will be given a chance to vote since this is not her fault," Arabe said.
Police deployed against alleged vote-buying
Superintendent Gadayan said a police quick reaction team was also deployed and checkpoints were set up against people said to be engaged in vote-buying.
"Right after we received the reports I informed our intelligence unit to conduct validation to find out the veracity. However, the suspicious people automatically dispersed and left," Gadayan said.
Alleged vote-buying incidents were monitored in the areas of barangays Menzi, Aguada and Sumagdang, according to Gadayan.
Police reports were also corroborated by some residents who said they saw someone paying from P200 to P500 pesos for each voter who voted against ratification.
Isabela City, which voted against inclusion in the Autonomous Region in Muslim Mindanao in two previous plebiscites, is said to be strongly opposed to inclusion in the new Bangsamoro region.
But BOL reportedly has strong support in all the municipalities in Basilan province as well as in Lamitan City.
Majority of Sulu residents are reportedly against ratification of the BOL, which will create a new region with a parliamentary form of goverment and will replace the Autonomous Region in Muslim Mindanao.