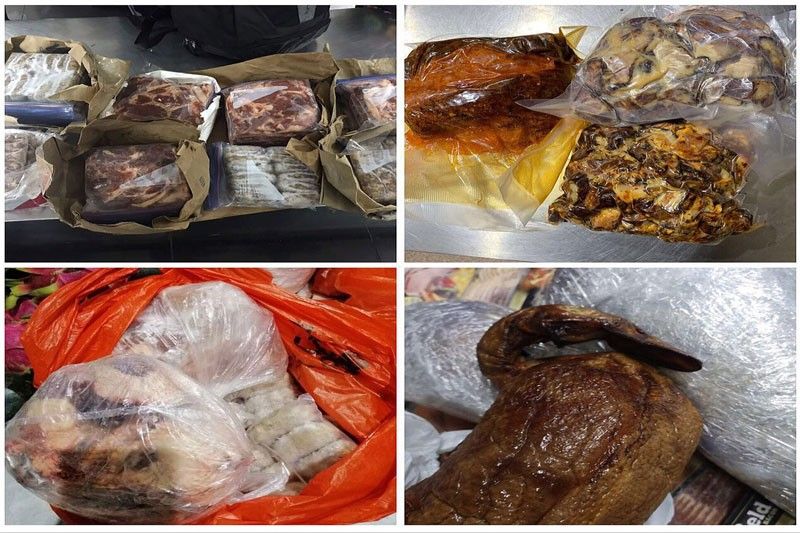 Customs at the NAIA confiscated some 1,151 kilos of assorted meat found inside passengers hand carry and checked-in luggage brought into the country mostly from China from January 1 to 18, 2019 without necessary health permit from the point of origin and BFAD...
Rudy Santos
1,150 kilos of meat seized at NAIA
Rudy Santos
(The Philippine Star) - January 19, 2019 - 12:00am
MANILA, Philippines — Travelers, mostly from China, brought in around 1,151 kilos of meat in their luggage upon arriving at the Ninoy Aquino International Airport since Dec. 31, 2018, when the Philippines banned pork products from countries affected by African swine fever (ASF), the Bureau of Customs (BOC) said yesterday.
None of the meat, hidden in the travelers' luggage, was covered by certificates from their point of origin and clearance from the Food and Drug Authority (FDA) and Bureau of Animal Industry (BAI), the BOC said.
The meat was confiscated and turned over to the BAI's quarantine division for proper disposal, the BOC said.
Customs and quarantine officers x-ray and inspect luggage to guard against the entry of meat products from ASF-affected countries China, Hungary, Belgium, Latvia, Poland, Romania, Russia, Ukraine, Bulgaria, Czech Republic, Moldova, South Africa and Zambia.
From June until Dec. 30, 2018, the BOC said it seized 5,302 kilos of meat products with no FDA or BAI clearance.