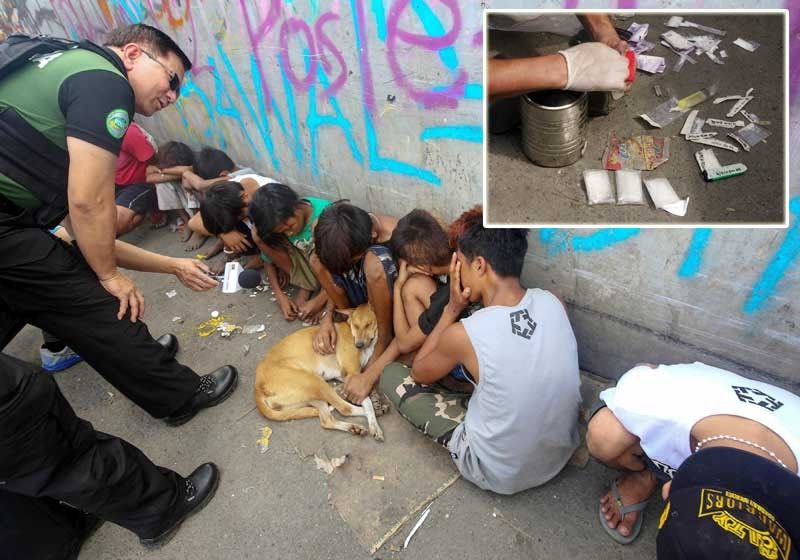 PDEA chief Aaron Aquino talks to children who were nabbed in Navotas yesterday. Inset shows drugs and cash seized during the raid.
Krizjohn Rosales
28 caught in Navotas drug raid
MANILA, Philippines — At least 28 suspects were apprehended yesterday during a raid by agents of the Philippine Drug Enforcement Agency (PDEA) on three shanties reportedly used as drug dens in Navotas City.
PDEA chief Aaron Aquino led the operation in Barangay North Bay Boulevard, which led to the arrest of the suspects, including 12 minors.
The raid stemmed from tips from informants about the illegal drug trade in the area, Aquino said.
"We received information that minors were either selling or using drugs," he said.
According to Aquino, the maintainers of the drug dens apparently had spotters as the suspects scampered away even before the PDEA operatives arrived in the area.
Police said they seized 44 sachets of shabu, cash and drug paraphernalia during the raid.
The youngest suspect accosted during the operation is a four-year-old girl. Seven other minors, aged 12 to 15, are students.
Aquino expressed concern that the minors were being used as couriers as drug rings know that children could not be prosecuted under the country's law where the minimum age of crimininal liability is 18.
"They should not be exposed to narcotics. The drug users are getting younger," he said.
Barangay officials agreed to destroy the shanties when Aquino warned them he would bring the matter to Interior and Local Government Secretary Eduardo Año.
In Quezon City, 35 persons were arrested for drug-related offenses in the past two days.
City police director Chief Superintendent Joselito Esquivel Jr. said the suspects were collared in Barangays Baesa, NS Amoranto, Paang Bundok, Kaligayan, West Fairview, San Antonio and Krus na Ligas.
In Pasay, four suspected drug pushers were nabbed in separate stings.
SAF pulled out from Bilibid
Meanwhile, a unit of the elite police Special Action Force (SAF) was pulled out from the New Bilibid Prison in Muntinlupa City yesterday.
Members of the SAF 7th Special Action Battalion were present at the send-off ceremony organized by the Bureau of Corrections.
SAF director Chief Superintendent Amando Clifton Empiso commended his men for helping the administration in eliminating drug trade at the national penitentiary. – Ghio Ong