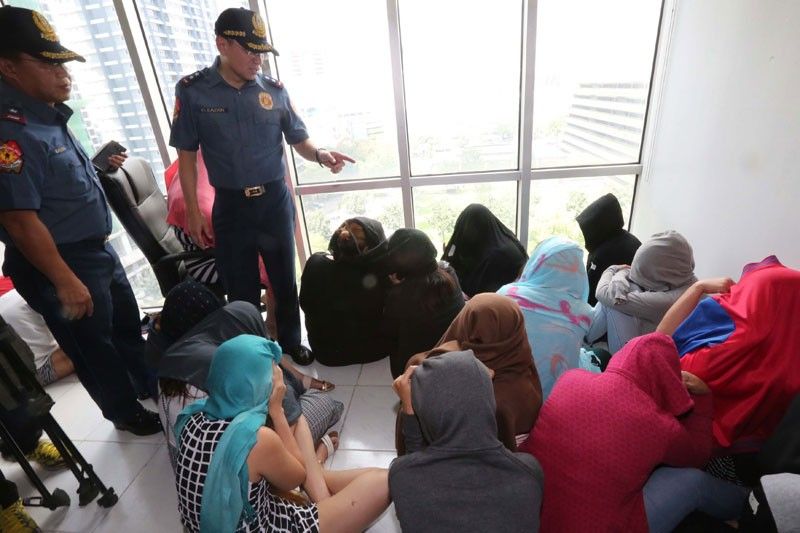 8 foreigners, 24 Filipinos arrested in Pasig City over investment scam
MANILA, Philippines — Eight foreigners and 24 Filipino women were arrested for allegedly operating a "boiler room" for a multi-million investment scam targeting Australians at their office in Pasig City yesterday morning.
Americans Robert Endrazak, Paul Carney and Matthew Lyon; Britons Nathan Sterling, Joseph Christophe and Shane Jenkins; Canadian Craig Walt and Ghanaian Michael Asante were arrested during raids on two offices along San Miguel Avenue in Ortigas at around 8:30 a.m.
At large is Briton Owen Sterling.
Police officers served search warrants issued by Judges Selma Palacio Alaras and Maximo de Leon of the Makati City Regional Trial Court Branches 63 and 143 for alleged violations of Republic Act 8799 or the Securities Regulation Code and RA 10175 or the Cybercrime Prevention Act of 2012.
National Capital Region Police Office chief Director Guillermo Eleazar said the group allegedly targeted retirees or pensioners and convinced them to invest a minimum of $65,000.
He said the Filipinos arrested during the operation told him that they thought they were doing legitimate surveys for a call center company.
The raids are an offshoot of another operation conducted in Alabang, Muntinlupa that led to the arrest of three people.
Eleazar said that lax rules and regulations on cybercrime in the country make it easy for online syndicates to establish operations here.