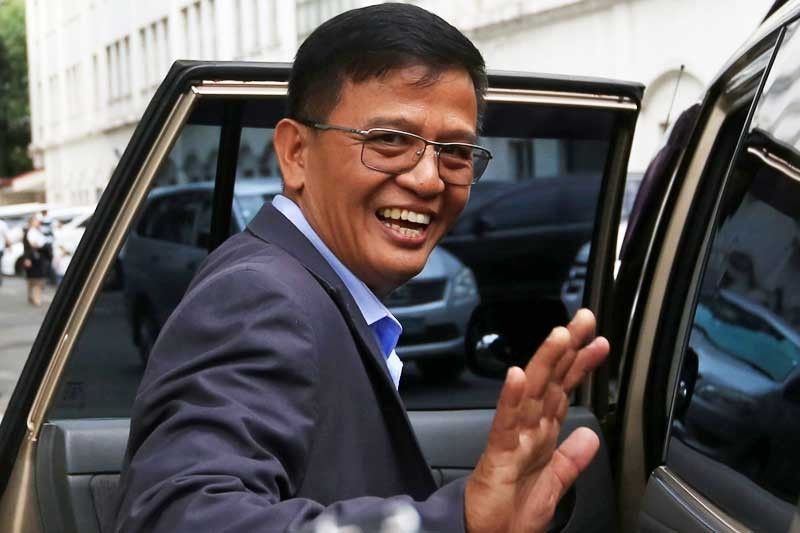 President Duterte officially named Faeldon as director general of the corrections bureau on Nov. 19.
Edd Gumban
It's official: Nicanor Faeldon assumes Bureau of Corrections post
Edu Punay
(The Philippine Star) - November 22, 2018 - 12:00am
MANILA, Philippines — Former Customs chief Nicanor Faeldon finally assumed his post yesterday as head of the Bureau of Corrections (BuCor). Faeldon took his oath before Justice Secretary Menardo Guevarra at the Department of Justice (DOJ) after Malacañang released his appointment papers.
President Duterte officially named Faeldon as director general of the corrections bureau on Nov. 19.
Undersecretary Markk Perete, spokesman for the DOJ, said Faeldon was tasked to address the problem of illegal drugs at the New Bilibid Prison (NBP) in Muntinlupa City.
The new BuCor chief was also ordered to solve the congestion in the national penitentiary and pursue the plan to transfer NBP facilities to another site.
"Bilibid has a capacity to hold 10,072 inmates. But its current population is 27,071, or 170 percent higher than its capacity. The overcapacity of BuCor facilities nationwide is estimated at 30 percent," Perete told reporters.
He said there is a plan to keep the maximum security compound at the NBP and transfer the other facilities to another place.
"By law, the maximum security facility should be in Bilibid. Because of congestion and security concerns, the other facilities would have to be relocated elsewhere," Perete explained.
He said two areas have been identified for the relocation.
The DOJ had planned to transfer the entire NBP to Laur in Nueva Ecija. The plan did not push through due to legal issues involving the property.
Faeldon was appointed BuCor chief by the President to replace Ronald dela Rosa, who resigned last month to run for senator in next year's midterm elections.
Faeldon quit as Customs chief in September over the P6.4-billion shabu shipment case that hounded the bureau.
He tendered his resignation three times before Duterte accepted it.
The President appointed Faeldon as deputy administrator of the Office of Civil Defense last December.
The Philippine Drug Enforcement Agency had filed a complaint against Faeldon and other Customs officials for the importation of illegal drugs. The DOJ dismissed the charges against Faeldon.
While Faeldon may have avoided criminal prosecution, he is still facing investigation before the Office of the Ombudsman.
The anti-graft court's fact-finding panel recommended that charges of graft, grave misconduct and usurpation of official functions be filed against him.
Despite the controversy, the President said he still trusts Faeldon. –With Alexis Romero