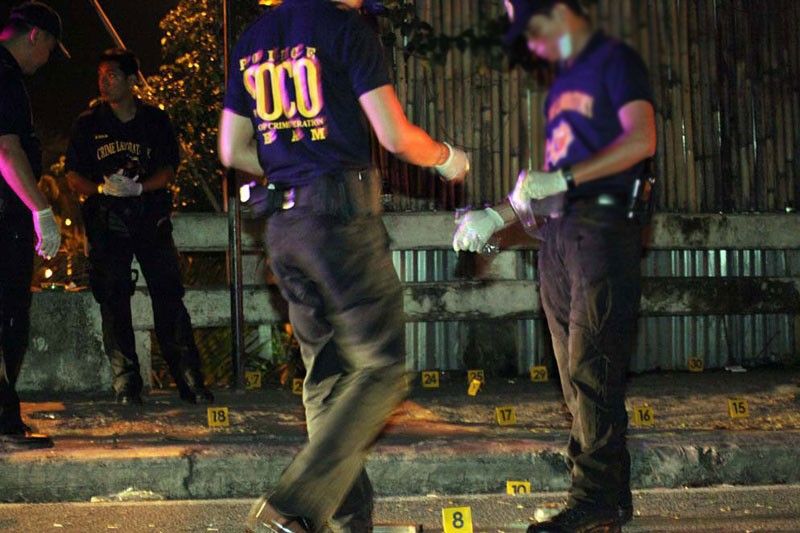 "We are in the process of ridding the province of drug pushers and criminals," Senior Superintendent Eleazar Matta, Laguna police director said. "I'm warning those people to mend their ways before it's too late."
File
10 dead in Laguna overnight drug busts
MANILA, Philippines — Ten alleged drug dealers were killed in police operations in Laguna from Wednesday night until dawn yesterday.
"We are in the process of ridding the province of drug pushers and criminals," Senior Superintendent Eleazar Matta, Laguna police director said. "I'm warning those people to mend their ways before it's too late."
Resel Ortega, 34, and Harry Kris Landicho allegedly drew their guns when they sensed they had sold shabu to anti-narcotics agents in Barangay Turbina, Calamba and San Francisco, San Pablo, respectively.
Leonardo Perez, 59, alias Narding, reportedly fired at police officers serving a search warrant for illegal drugs at his residence in Barangay ll-B also in San Pablo.
Police said a certain Cirilo was shot dead when he resisted arrest and fired at police officers in a drug sting in Barangay Yucos, Nagcarlan. Police Officer 3 Danny Piol was wounded.
A certain Noli and Leo Strell, alias Toto, reportedly shot it out with law enforcers who posed as buyers of shabu in Barangay Timugan, Los Baños and Canlalay, Biñan, respectively.
The other fatalities were identified as Miguel Centeno, Louie Dizon and an alias Toothpick. They were killed in drug busts in Barangay Parian, Calamba; Dila, Bay, and Sto. Angel Norte, Sta. Cruz, respectively.
Another unidentified suspect was killed in an alleged shootout with anti-drug operatives in Barangay Banlin, Cabuyao.
In Isabela, police said Gilbert Guillermo was killed in a drug raid in Barangay Nagrumbuan, Cauayan.
Construction worker Marvin Vasquez, 34, was shot by unidentified motorcycle-riding men in Barangay Taft North, Mandurriao, Iloilo City. Police said the fatality, who was a known drug user, did not surrender under Oplan Tokhang.