Tourists defy Boracay ban on parties, loud music
November 2, 2018 | 12:00am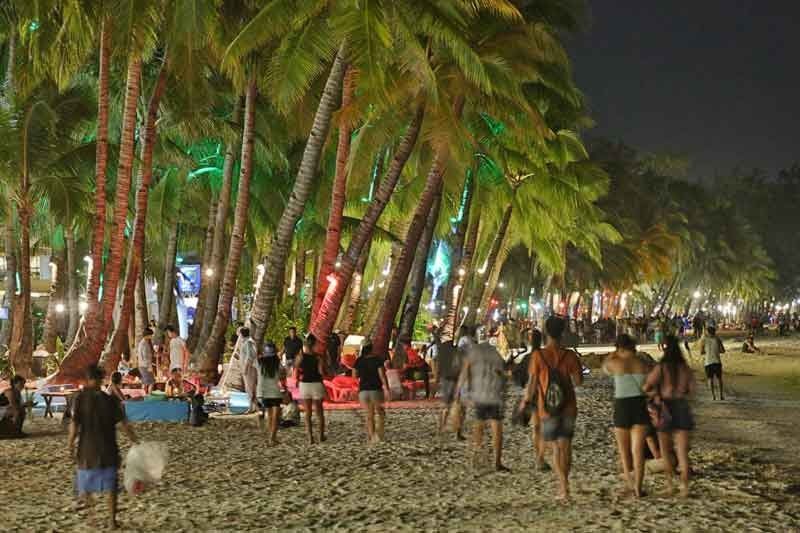 MANILA, Philippines — Barely a week since Boracay was reopened, some tourists and business establishments have defied regulations set by the Boracay Interagency Task Force to help protect and preserve the island.
Parties, including loud music, smoking and drinking in Boracay are back, Tourism Secretary Bernadette Romulo-Puyat said, citing reports she received on Wednesday.
"Nakakalungkot lang talaga na may mangilan-ngilan na mga pasaway. It is hard... to believe that they do not know the guidelines because they were given an oath for a better Boracay upon entering the island," Puyat told The STAR.
The oath states that a tourist promises to ensure the preservation and sustainable development of Boracay and observe environmental laws and regulations.
Puyat had earlier warned visitors on the strict enforcement of a local ordinance prohibiting drinking of alcohol and smoking in public places as well as partying within the no-build zone easement. She said sandcastle making would be regulated while the use of kerosene lamps and bonfires are prohibited.
The tourism chief expressed concern that some business establishments and Filipino tourists comply with the regulations only if police personnel are visible on the island.
"We issue citation tickets for hard-headed tourists and business establishments, but we will be forced to close their business kung hindi sila makikinig sa amin," Puyat said.
Photos of garbage left on the island shortly after its reopening have also been posted on social media.
Puyat called on tourists and businessmen to report violations.
President Duterte closed Boracay for six months amid environmental issues hounding the island, including the lack of proper sewerage system.
Meanwhile, the Department of Tourism said fewer tourists arrived in Boracay during the observance of All Saints' Day compared to those who came when the island was reopened on Oct. 26.
Puyat said the number of tourists is expected to increase in December.
Theft gangs
As this developed, the Malay police is monitoring at least two gangs for alleged involvement in theft on the island.
Chief Inspector Ruel Firmo said initial investigation showed that the gang members are from Kalibo and Iloilo.
"Some of them entered Boracay even before its opening on Oct. 26," Firmo said.
He said two suspected pickpockets were arrested earlier this week. An Italian tourist, who was with his Filipina girlfriend, said he lost his wallet which contained his credit and other cards, $60 and around P15,000 in cash in front of a restaurant on Oct. 26.
Reynaldo Buenafe, 39, and Carlo Vargas, 41, both residents of Oton, Iloilo, were arrested at Station 2 on Wednesday for illegal possession of firearms.
"They tried to blend with the crowd by joining a Halloween party, " Firmo said. – With Jennifer Rendon
Related video: