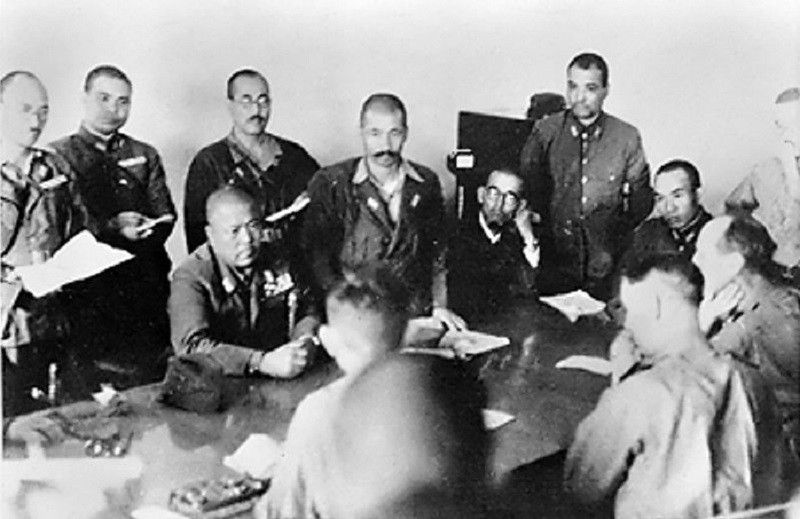 Lt. Gen. Yamashita Tomoyuki and Lt.Gen. A E Percival discuss surrender terms at the Ford Works Building near the Bukit Timah Road, Singapore.
Imperial War Museums (Collection no. 5707-03)
Hunt for Yamashita treasure leaves holes in Baguio Convention Center
BAGUIO CITY, Philippines — A failed hunt for the Yamashita treasure left large holes in the basement of the Baguio Convention Center, the contractor for its rehabilitation said.
BCC rehabilitation contractor David Sanchez said an investigation is ongoing to determine the extent of the damage. Until then, he said, the holes will not be filled.
Sanchez had faced the Baguio City council with Department of Public Works and Highways and city building officials for an update on the project, which has also been marred by the city's technical working team and the DPWH having different plans for the project.
Earlier, the DPWH disapproved a proposed treasure hunt by Eliseo Cabusao Jr. to look for the legendary Yamashita treasure in the area, saying it would affect the building's structure.
READ: Treasure hunter asks gov't permission to search for Yamashita gold
Cabusao has a Treasure Hunting and Disposition of Recovered Treasures Permit from the National Museum. The local council has upheld the permit despite a local law banning treasure hunting in the city.
Cabusao, who claims to have been told of the location of the treasure by a 90-year-old Baguio local of Japanese descent who moved to the US in the 1970s, had proposed a sharing scheme, with 35 percent going to the city and 30 percent to the national government.
The holes in the building's basement were found when rehabilitation work began.
Contractor Sanchez said a letter has been sent to the DPWH to inform it of the damage and to raise concerns on the safety of the structure. He said the digging may have affected the soil in the area.
Yamashita's treasure supposedly consists of war loot from the Japanese occupation of Southeast Asia during World War II that was transported to the Philippines and hidden by Imperial Japanese Army Gen. Tomoyuki Yamashita. Yamashita was military governor of the occupied Philippines from 1944-1945.
He was executed in for war crimes in 1946.
The treasure's actual existence is disputed, if not outright dismissed, by experts.
The BBC was built for the World Chess Championship that pitted world chess champions Anatoly Karpov against Bobby Fischer in 1978. In 1985, the BCC was the venue of the World Junior Chess Championship.