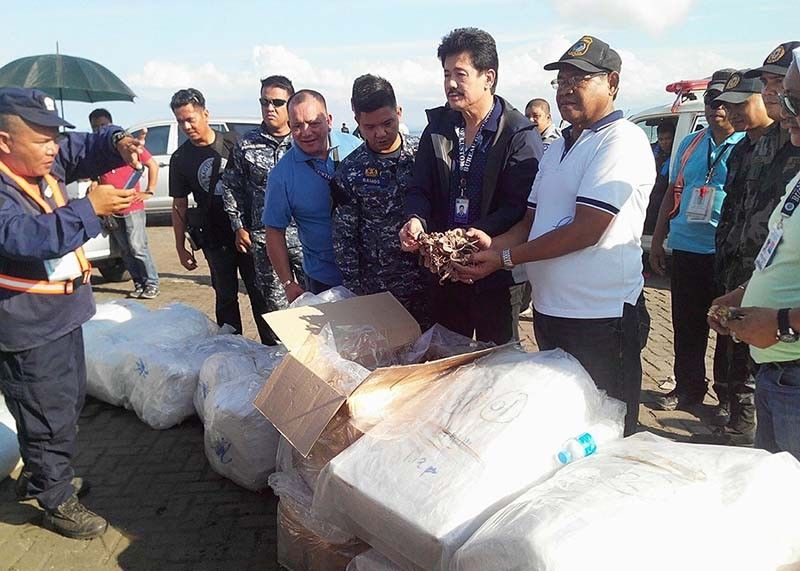 In this file photo from August 2017, District Customs Collector Lyceo Martinez (2nd from right), and Coast Guard station chief Lt. Cmdr. Noriel Ramos show the dried seahorses contained in 15 bundles with an estimated value of P5.7 million seized in the port of Zamboanga City.
Coast Guard Released
P2M in seized dried seahorse vanishes from Customs warehouse
Roel Pareño
(Philstar.com) - September 18, 2018 - 5:23pm
ZAMBOANGA CITY, Philippines — The National Bureau of Investigation is investigating how boxes of dried seahorse worth millions of pesos disappeared from the storage warehouse of the Bureau of Customs.
Lawyer Lyceo Martinez, BOC district collector, said he asked the NBI to conduct an investigation after he learned last week that seven boxes of the contraband had gone missing.
Martinez said the seven missing boxes were part of 15 boxes of dried seahorse that were intercepted and seized by the Coast Guard after an attempt to slip the shipment to Manila in early August.
The entire shipment is valued at P5.2 million and the missing boxes are worth around P2 million. According to an earlier report, the contraband was valued at P5.7 million.
RELATED: P5.7 million worth of dried seahorses seized in Zambo
"I wrote a letter to the NBI to conduct an in-depth and all-out investigation," Martinez said.
He said an initial investigation by port police investigation found that the boxes may have been slipped out of the warehouse through the ceiling.
"However, I leave it to the NBI to determine if that was possible," Martinez said.
He said if the NBI finds the theft was an inside job, he will not hesitate to file charges against those involved.
"I will let [any] involved employees face the full force of the laws," he also said.