Scammers targeting martial law victims
September 14, 2018 | 12:00am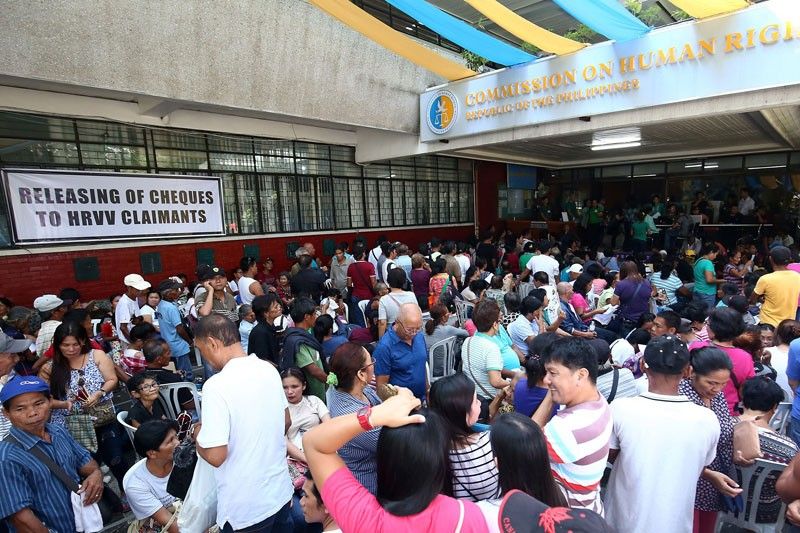 MANILA, Philippines — Victims of human rights violations during the Marcos dictatorship are being targeted by scammers promising government compensation in exchange for a fee.
Lina Sarmiento, former chair of the now-defunct Human Rights Victims' Claims Board (HRVCB), yesterday warned victims against groups taking advantage of those who were not able to file claims or whose claims were denied by the board.
"We would like to remind everyone that the HRVCB is no longer existing as of the moment," she said.
"For those asking for appeals, we can no longer accept appeals because the board has been closed pursuant to the provisions of law," she added.
Sarmiento said no former member of the HRVCB is authorized to go around and accept appeals or new applications for claims.
She said no new funding was allocated by the government to process new claims, noting that the remaining P134 million with the Land Bank of the Philippines was alloted for unclaimed checks.
Sarmiento said 177 checks, including some that were issued to deceased payees, went stale after they remained unclaimed when the fund expired last month.
A joint resolution is currently pending before Congress that would allow the replacement of the stale checks.
The HRVCB said a total of 11,103 claims out of 75,730 applications were approved by the body.
The P10-billion fund allotted for the reparations had been divided among the approved claims.
Commission on Human Rights (CHR) commissioner Karen Gomez-Dumpit said they will investigate reports of groups targeting martial law victims.
She said they have also alerted their regional offices to correct misinformation going around among victims.