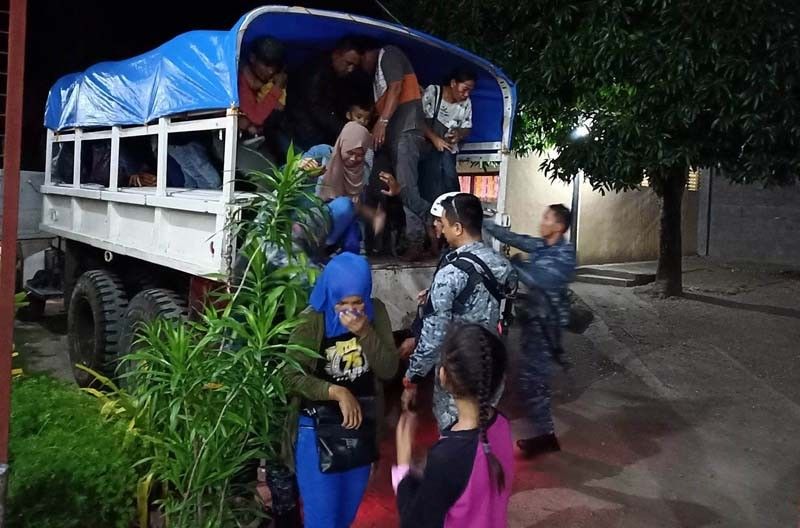 Coast guard personnel assist some of the passengers of the boat intercepted off Zamboanga City on Sunday.
PCG release
Coast Guard intercepts boat of Filipinos fleeing Sabah
ZAMBOANGA CITY, Philippines — The Philippine Coast Guard intercepted a boat carrying 63 Filipinos who reportedly fled from Sabah on Sunday afternoon near the waters of this city.
Lt. Cdr. Noriel Ramos, Coast Guard station commander, said M/L Al Hapidz, skippered by boat captain Jawadi Adjilani, was intercepted about 3 p.m. on Sunday after being alerted by coast guard personnel in Basilan of a watercraft ferrying undocumented passengers.
Ramos said personnel from the coast guard, multi-agency Joint Task Force Zamboanga and local police intercepted the boat as it was sailing towards a private wharf at Barangay Baliwasan.
Coast guard and security personnel inspected the boat and found that 41 of the passengers were undocumented and had no identification cards. The captain and 21 others on the boat had documents.
Ramos said 25 of the passengers without IDs were adults and 16 were minors. Those who had identification papers were released after verification and documentation.
He said passengers disclosed that they came from Kota Kinabalu, Sandakan in the State of Sabah and entered the Philippines via Bakungan Island off Tawi-Tawi.
"Due to the strict documentation of the Malaysian authorities there, they were forced to return home passing the backdoor," Ramos said.
Last week, the Department of Foreign Affairs appealed to undocumented Filipinos in Malaysia to take advantage of a program that would let them go home without going to jail or paying large fines.
An estimated 400,000 Filipinos do not have legal immigration status in Malaysia, the DFA said.
"We appeal to our undocumented kababayan in Malaysia to take this opportunity to be able to return to their loved ones in the Philippines without jail time or fines," Philippine Ambassador to Kuala Lumpur Charles Jose said then.
According to Ramos, some of those intercepted cannot read or write and were formally turned over to the Center for the Displaced Persons of the Department of Social Welfare and Development for assistance.
Ramos said those who were able to present documents were residents of Zamboanga City and of nearby Sibuco and Sirawai towns in Zamboanga del Norte.