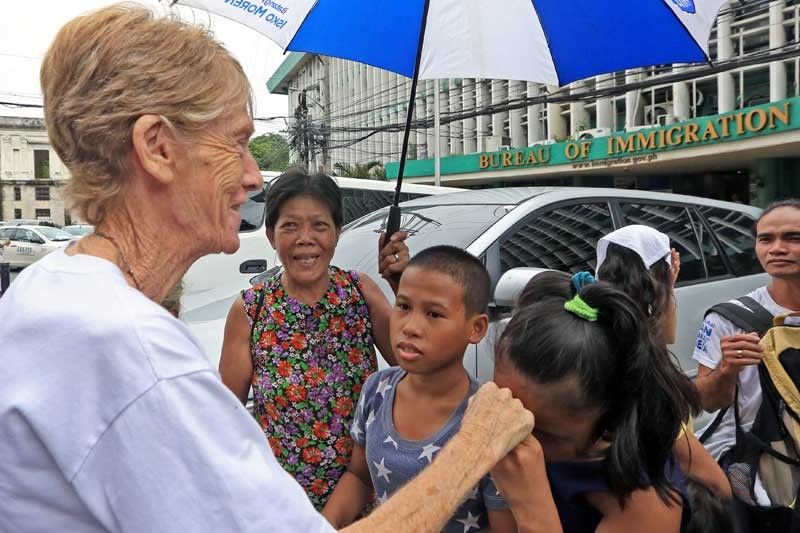 Supporters greet Australian nun Patricia Fox as she arrives at the Bureau of Immigration headquarters yesterday to file her motion for reconsideration of the deportation order against her.
Edd Gumban
Sister Patricia Fox may stay for now – DOJ
Edu Punay
(The Philippine Star) - July 24, 2018 - 12:00am
MANILA, Philippines — Australian nun Patricia Fox may stay in the country longer despite the deportation order issued against her by the Bureau of Immigration (BI) last week, Justice Secretary Menardo Guevarra said yesterday.
Guevarra said the deportation order issued against the 72-year-old nun was not immediately executory – especially after she filed a motion for reconsideration before the BI yesterday.
"The deportation order cannot be enforced until it becomes final. With the filing of the appeal, the deportation will not be executed," he told reporters.
The Department of Justice (DOJ) chief explained that with Fox's filing of appeal before the bureau, the implementation of the deportation order has been suspended.
"If the BI denies Sister Fox's MR, the deportation order can still be subject to appeal to the DOJ or the Office of the President (OP)," he stressed.
Guevara further revealed that the issue could also reach the courts should Fox opt to file a petition after all administrative remedies before the executive branch are exhausted.
"Any adverse ruling of the DOJ or OP may further be reviewed by the courts," he added.
Last week, the BI Board of Commissioners (BOC) ordered the deportation of the missionary nun and also her inclusion in the bureau's blacklist to prevent her from returning to the country.
The BI has found that Fox violated "the limitations and conditions of Commonwealth Act 613, Section 9 (g) missionary visa and undesirable under Article 2711, Section 69 and order her deportation to Australia, subject to her submission of all appropriate clearance and the inclusion of her name in the BI's blacklist, thus barring her re-entry into the country."
The bureau cited as basis for its order several photographs showing that she engaged in several partisan political activities sometime in 2013, 2016, 2017 and 2018—including those where she reportedly demanded for the release of political prisoners, joined the rallies for land distribution in Hacienda Luisita, and a labor rally in Davao City.
The BI also considered President Duterte's earlier statements that branded Fox as an undesirable alien by joining political rallies. – Evelyn Macairan
Related video: