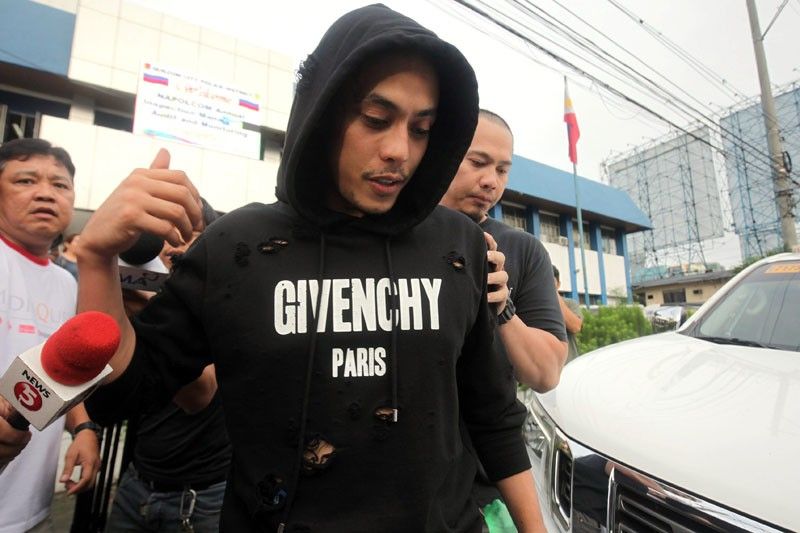 Gilas Pilipinas player Terrence Romeo leaves the Quezon City Police District Station 10 following a skirmish at a bar yesterday.
Michael Varcas
Gilas player Terrence Romeo questioned over bar brawl
MANILA, Philippines — Gilas Pilipinas player Terrence Romeo was questioned by police after his group was allegedly involved in a bar brawl in Quezon City before dawn yesterday.
Romeo was brought to the Quezon City Police District Station 10 but released hours after the two parties settled the matter.
"I'm in my house right now. I'm not held up in any prison or station. No need to make a fuss. Watch the CCTV. I believe it's somewhere in social media right now. I didn't do anything. Let the video speak for itself. Anyway both camps are okay," he tweeted at 9:20 a.m. yesterday.
Probers said Romeo's group got into a scuffle at a bar along Tomas Morato in Barangay South Triangle at around 4:30 a.m.
A man had wanted to get a photograph with Romeo, which led to a commotion between the two groups.
The bouncer of the bar pacified the groups and police officers were called in.
Romeo and the complainant, identified as Darwin Pelena, 26, were brought in for questioning at the police station.
Romeo and the Gilas team got into a brawl with the Australian team during an International Basketball Federation game earlier this month.