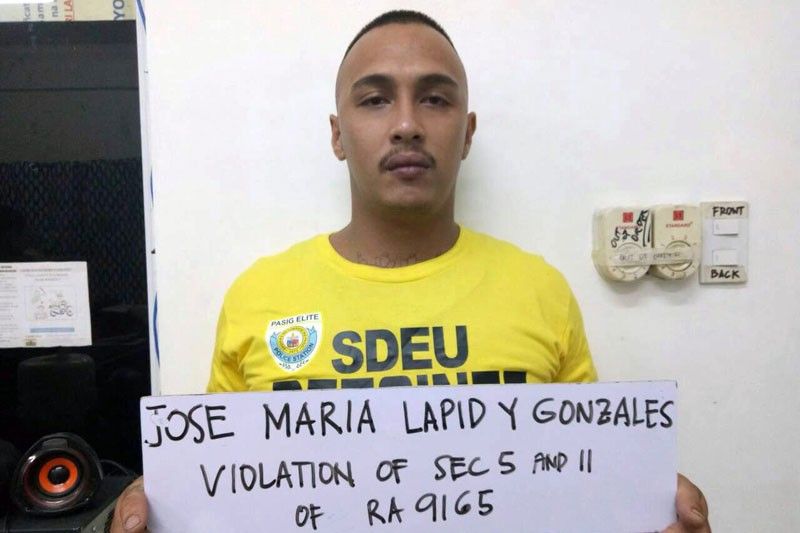 Ex-action star's son nabbed for drugs
MANILA, Philippines — A man identified to be a son of former action star Jess Lapid Jr. and his three companions were arrested during a drug sting in Pasig City Monday.
Around two kilos of marijuana, with a street value of P80,000, were seized from Jose Maria Lapid, alias Joey, 24; Franklin Ramos, alias Jhun, 25; Zackaria Bansil alias Jack, 21, and Xavier Allan Raymundo, 30, said Senior Superintendent Bernabe Balba, Eastern Police District (EPD) director.
Balba said they received reports that Lapid is a son of the former action star but the suspect denied this.
The EPD director said the operation to get Lapid and his companions was a product of a two-week surveillance operation.
A police team headed by Senior Inspector Alvin Perlas of the Station Drug Enforcement Unit arranged the purchase of P2,000 worth of marijuana from Lapid and they agreed to meet at the corner of Ortigas Avenue Extension and Countryside in Barangay Sta. Lucia at around 11:15 p.m. Monday.
Roof party
In Caloocan, 14 persons, including three minors, were arrested for allegedly smoking marijuana during a roof party in Barangay 149 at around 5:30 a.m. yesterday.
Police and barangay tanods raided the house of Penelopie Caacbay following a complaint that Erwin Bryan Lupenarya carried a gun during the party.
Among those arrested were Lupenarya, 22; Krisha Mae Calina, 18; Nicole Pagay, 18; Jericho Padua, 18; Joshua de Luna, 19; Fraham Manansala, 19; Jayjay Bringuela, 19; Ferdinand Santos Jr., 18; JM Manansala, 20; Mike Lozado, 20; John Zulueta, 18; and the three minors.
Police recovered a cigarette butt, a face towel and a plastic container with traces of marijuana.
Drug sessions
In Manila, former policeman Hilario Mandapat, 60, and Army reservist Ramir Razote, 44, were caught allegedly using illegal drugs at a house in Manila Monday afternoon.
Superintendent Gerry Corpuz, Manila Police District Station 7 commander, said police officers were conducting an anti-crime operation along the railroad tracks on Pilar street in Tondo when they spotted several men playing cara y cruz, an illegal coin gambling game, at around 3 p.m.
Three of the men, with police officers in pursuit, barged into a house where Mandapat and Razote were allegedly using drugs. Two sachets of shabu were seized from the two men.
Ten other drug suspects and 12 sachets of shabu were seized in separate operations all over Manila.
In Quezon City, Barangay UP Campus watchman Arturo Albaniel, his brother Armando and eight others were arrested while in the middle of a drug session on Monday.
Eight more persons were also arrested in anti-drug operations in the city as well as two in Makati, six in Las Piñas and four in Valenzuela over the past two days. – With Marc Jayson Cayabyab, Rey Galupo, Robertzon Ramirez