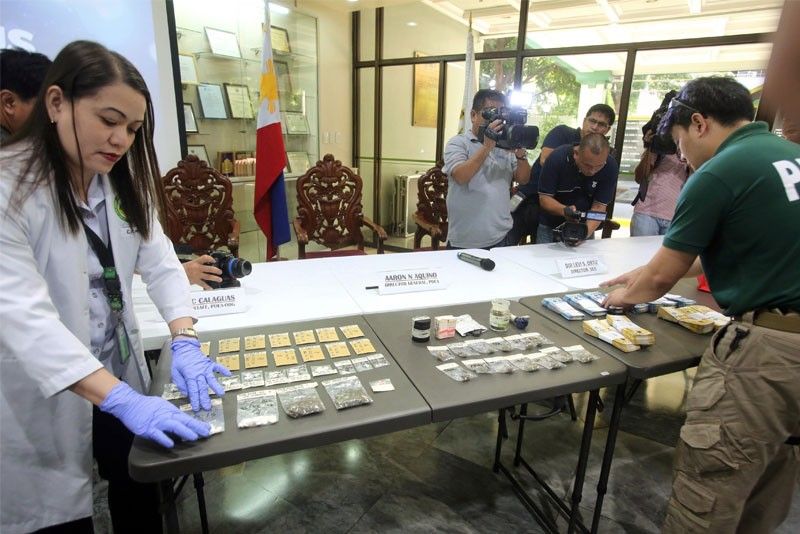 Philippine Drug Enforcement Agency personnel arrange the illegal drugs seized from Rajiv Gidwani and Jeremiah Alero Castillo prior to a press conference at the PDEA headquarters in Quezon City yesterday.
Boy Santos
2 nabbed for P1 million drugs in Alabang
(The Philippine Star) - May 29, 2018 - 12:00am
MANILA, Philippines — Two men, alleged drug dealers catering to celebrities and politicians, were arrested in a drug raid at an exclusive subdivision in Alabang, Muntinlupa City.
Rajiv Gidwani and Jeremiah Alero Carillo were reportedly caught with 13 sachets of kush marijuana; 25 grams of hashish or marijuana resin, with a street value of P600,000; liquid ecstasy and 163 ecstasy tablets with a street value of P417,000 at Gidwani's home on Toledo street in Alabang Hills Village on Friday night.
The Philippine Drug Enforcement Agency-Special Enforcement Service (PDEA-SES), which staged the operation, pegged the total value of the seized illegal drugs at P1.072 million.
PDEA chief Aaron Aquino alleged that Gidwani received clients – among them models, politician's children and politicians themselves – at his home.
"Everyday ang transaction. Parang palengke, parang tiangge, ang daming pumapasok (It's like a market, a flea market, with many people coming in)," Aquino told reporters.
He refused to name the clients, saying they would be subjected to case buildup.
PDEA-SES Director Levi Ortiz said they conducted at least two months' surveillance and case buildup on Gidwani prior to the raid.
Gidwani allegedly sourced his kush marijuana and hashish from local plantations in Kalinga and Mindanao.
Aquino said kush marijuana and hashish are more potent forms of the hallucinogenic drug and sold at steeper prices.
Gidwani's father was arrested the next day for allegedly trying to bribe PDEA operatives with P1 million to release his son.