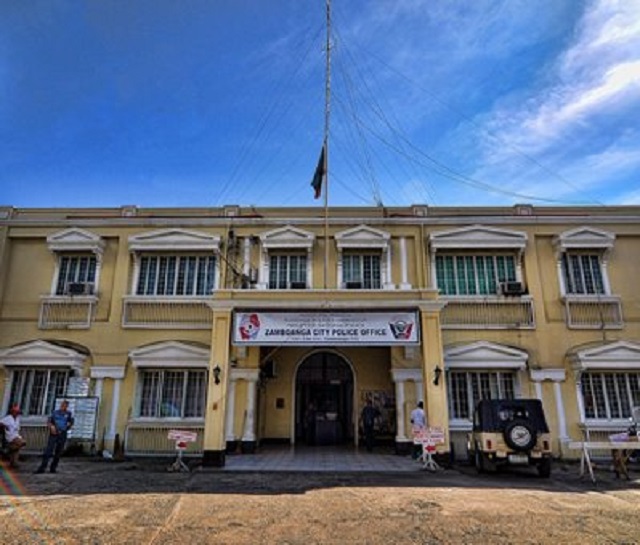 The Zamboanga City Police Office on Governor Lim Avenue. ZCPO, file
Zamboanga City on guard as 96 charged over siege freed
ZAMBOANGA CITY, Philippines — Security personnel on Monday escorted 62 of 96 Moro National Liberation Front members accused of participation in the 2013 Zamboanga Siege back to the city after a court ordered them released.
The 96 MNLF members were among around 200 rebels charged with rebellion and crimes against humanity in relation to the September 2013 siege that left five villages in ruins and more than 120,000 residents homeless.
Among those charged are MNLF founding chairman Nur Misuari.

The 62 were flown to Edwin Andrews Air Base Monday morning, with 45 brought to Naval Forces Western Mindanao for transport back to Basilan. Another 17 stayed in the city and will be processed by the Commission on Human Rights regional office.
The Philippine Air Force flew 34 of the released detainees straight to Jolo, Sulu from Manila.
City Administrator Marie Angelique Go told reporters the city does not have further information on the court's decision to free the 97. The city government earlier said the detainees had entered into a plea bargain agreement to lower the charges to sedition from rebellion.
Mayor Maria Isabelle Climaco-Salazar has yet to issue a statement on the release. The mayor is in Manila for a Senate inquiry on reportedly substandard housing that the National Housing Authority built for thousands displaced by the fighting.
"The stand of the city as mentioned by the mayor in the previous conference is consistent and the same. However, we have to honor the legal institution that issued such notices," Go said.
The local government and police has put security measures in place and will keep an eye on the released detainees.
"There is an order coming from the city mayor for the close monitoring and all offices are on their toes," Go said.
The siege, done by an MNLF faction associated with Misuari, was sparked by concerns that the peace process between the government and the breakaway Moro Islamic Liberation Front would sideline the MNLF founding chairman and a separate peace agreement the MNLF entered into in 1996.