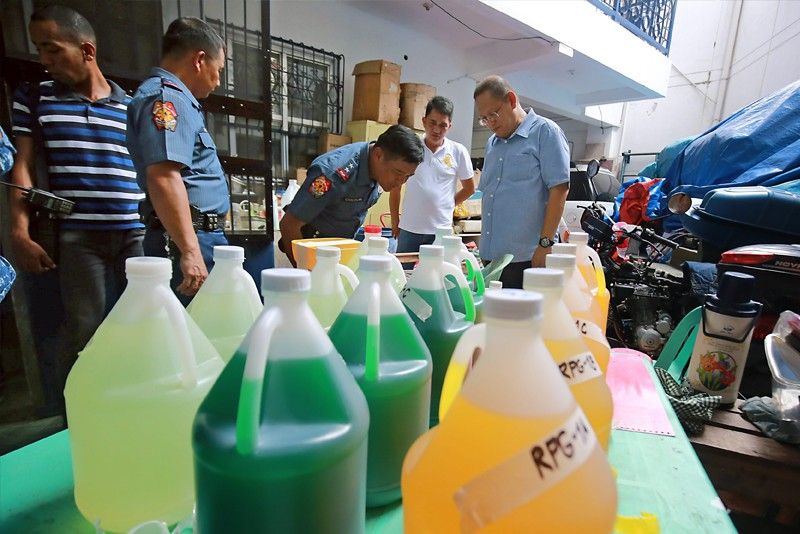 National Capital Region Police Office chief Director Camilo Cascolan and Marikina Mayor Marcelino Teodoro inspect chemicals used in the manufacture of shabu during a visit to a house used as a clandestine shabu laboratory yesterday. Anti-narcotics police officers raided the house on Divinagracia street in St. Mary's Subdivision on Friday afternoon.
Michael Varcas
Shabu chemicals seized in Marikina raid
MANILA, Philippines — Police seized chemicals used to manufacture shabu at a four-story house, used as a clandestine shabu laboratory, in Marikina City on Friday.
Marikina police chief Senior Superintendent Roger Quesada said an undertemined quantity of precursors were recovered at the house in St. Mary's Subdivision in Barangay Nangka.
Quesada could not give an estimate of the amount of chemicals they seized as the inventory was still ongoing as of yesterday.
Policemen searched the house at around 5 p.m. after they received information from residents it is owned by John Ming Shen, a Chinese who was arrested during a raid at a clandestine laboratory in Malabon City last week.
"The residents informed us about the house when they saw their neighbor on television," Quesada said, referring to Jiang.
The chemicals were placed inside plastic containers of different sizes, he said.
4 in police custody
Four persons of interest have been taken into police custody after they were found in the house of Shen, earlier identified as Jiang Minshan, during the raid: Shen's wife Lulu Hong, his grandmother Zheng Chongli, and their Filipino house helpers Eva Piyang and Ma. Cristine Locsin.
Quesada said an investigation is ongoing to determine if the four persons were involved in the chemicals used to manufacture shabu that were found on the second and third floors of the house.
"They were on the first floor when the raid was conducted," Quesada said in a phone interview.
Director Camilo Cascolan, chief of the National Capital Region Police Office, visited the shabu laboratory yesterday and instructed investigators to conduct a thorough probe.
Based on their investigation, Quesada said Shen has been a resident of the subdivision for five years.