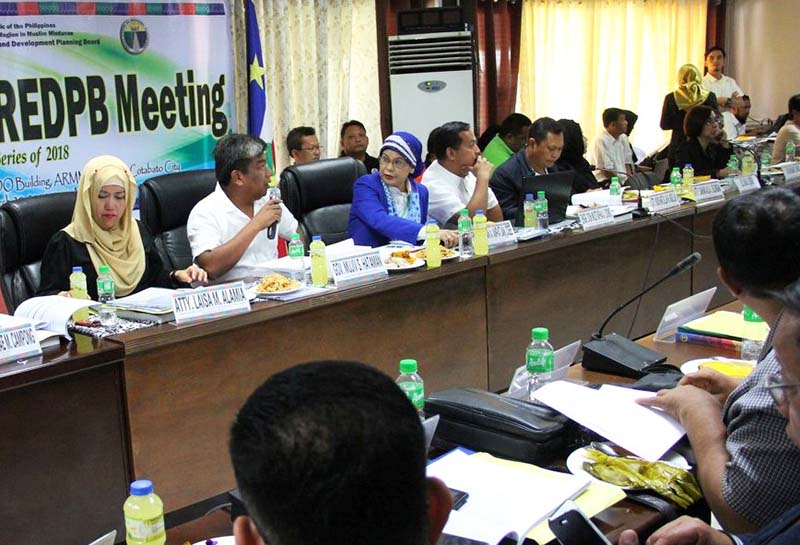 The Regional Economic and Development Planning Board meeting on March 20 was held at the ARMM compound in Cotabato City.
Philstar.com/John Unson
ARMM eyes flood control projects in Maguindanao
John Unson
(Philstar.com) - March 22, 2018 - 11:57am
COTABATO CITY, Philippines — The Autonomous Region in Muslim Mindanao will pursue high-ticket flood control projects as the southern peace process wind up with ARMM's likely replacement with a Bangsamoro political entity.
ARMM's planning director, Baintan Adil-Ampatuan, said Thursday among the issues discussed during the meeting here of the Regional Economic and Development Planning Board on Tuesday were the climate change responsive integrated river basin management development master plans for the Mindanao River and the Ambal-Simuay River in Maguindanao.
The REDPB, chaired by ARMM Gov. Mujiv Hataman and comprised of representatives from line agencies under his office, from the region's five provincial governments and its eight congressional district offices, also tackled flood control efforts for the Rio Grande de Mindanao.
Channels of the Rio Grande de Mindanao, which springs from hinterland watersheds of Bukidnon and North Cotabato provinces, straddles through towns in Maguindanao that are located along the perennially-flooded 220,000-hectare Liguasan Delta.
The vast delta, a catch basin for more than a dozen rivers, swells easily during rainy days, causing the inundation of towns nearby.
Records from state auditors showed that the ARMM government had built more than a thousand kilometers of roads and rehabilitated dozens of abandoned arterial networks in the past six years as part of an infrastructure campaign meant to help restore normalcy and foster economic stability in calamity and conflict-stricken areas covered by the Mindanao peace process.
Adil-Ampatuan, a civil engineer, said the ARMM administration acknowledges the need for massive flood mitigation initiatives to ensure the productivity of Muslim and Christian farming communities in central Mindanao.
Production of rice and corn in flood-prone areas are periodically stymied by floods that sweep through farms of Moro peasant families whenever the Liguasan Delta and large rivers along their enclaves overflow due to torrential rains.
Malacañang and the ARMM government are both spending large amounts of state funds for food and rehabilitation of residents in oft-flooded areas due to the frequent inundation of their villages.
Besides their deliberation on serious flood control concerns, REDPB members also approved during Tuesday's meeting in Cotabato City the proposed Bangon Marawi Comprehensive, Rehabilitation, and Recovery Program for 2018 to 2022.
Marawi City is the capital of Lanao del Sur, also a component city of ARMM, which also covers Maguindanao and the islands of Basilan, Sulu and Tawi-Tawi.
The Mindanao process aims to address underdevelopment caused by decades of secessionist strife in southern provinces by putting a negotiated closure to the now 50-year Moro issue.
Hataman, now in his second term as ARMM regional governor, has been vocal about his readiness to facilitate a transition from the present regional autonomous government to a Bangsamoro entity that Malacañang and the Moro Islamic Liberation Front are trying to establish via the Bangsamoro Basic Law now being deliberated on by Congress.
The bill, crafted jointly by representatives from the government and the MILF, is the enabling measure for ARMM's replacement with a more empowered Bangsamoro entity.
It was premised on two compacts --- the 2013 Framework Agreement on Bangsamoro and, subsequently, the 2014 Comprehensive Agreement on Bangsamoro --- reached after 18 years of tedious negotiations repeatedly punctuated with hostilities in the country's south.
Adil-Ampatuan said REDPB members also talked about proposed irrigation projects in Lanao del Sur, also a recipient of costly infrastructure projects bankrolled by the executive department of ARMM.
Hataman said the REDPB will endorse its approved resolutions to the Department of Budget and Management, the ARMM's 24-seat Regional Assembly and national agencies for appropriate action.
Hataman said their infrastructure thrusts since 2012 are focused on providing marginalized sectors socio-economic empowerment, one of the main goals of the southern peace process.