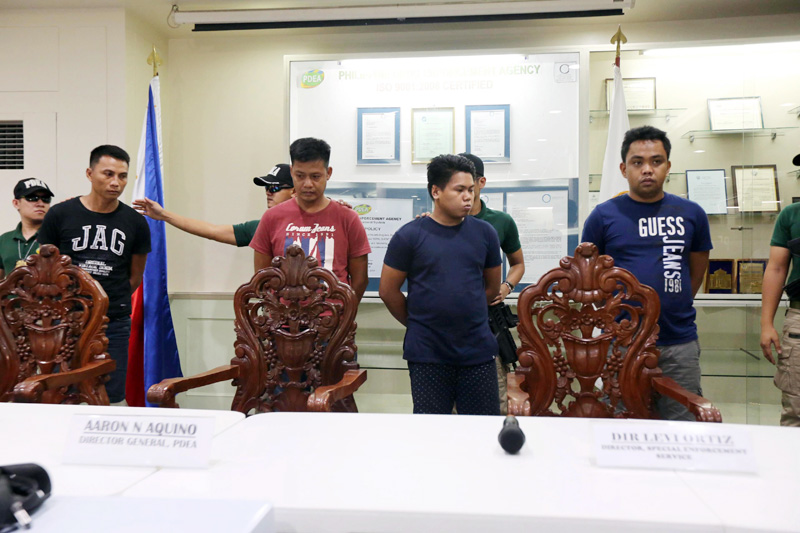 Suspected terrorists (from left) Aladin Kulapo Ali, Omex Omar Tuwan, Bong Masual Mondato and Kaharudin Kulapo Ali are presented during a press conference at the Philippine Drug Enforcement Agency headquarters yesterday.
Boy Santos
4 'narco-terrorists' nabbed in Manila
(The Philippine Star) - March 8, 2018 - 12:00am
MANILA, Philippines — Four alleged narco-terrorists were arrested in a drug sting in Manila on Tuesday, an official said yesterday.
Philippine Drug Enforcement Agency (PDEA) director general Aaron Aquino said a politician from Mindanao is reportedly funding narco-terrorism activities, which have reached Metro Manila.
Ten packs of shabu with a street value of P2.5 million, financial documents and two mobile phones were seized from Aladin Kulapo Ali, 25; Omex Omar Tuwan, 32; Bong Masual Mondato and Kaharudin Kulapo Ali, 18.
The suspects were arrested along Flores street in Ermita at around 3:15 p.m. Tuesday.
Tuwan claimed to be a Moro Isamic Liberation Front (MILF) combat trainer and Mondato an operational commander.
Aquino said their initial assessment is that the suspects were using illegal drugs for fundraising activities and the alleged MILF members were working for a politician who supports their group.
"Malalim to kasi combined ang narco-politics and narco-terrorism," he said during yesterday's press conference.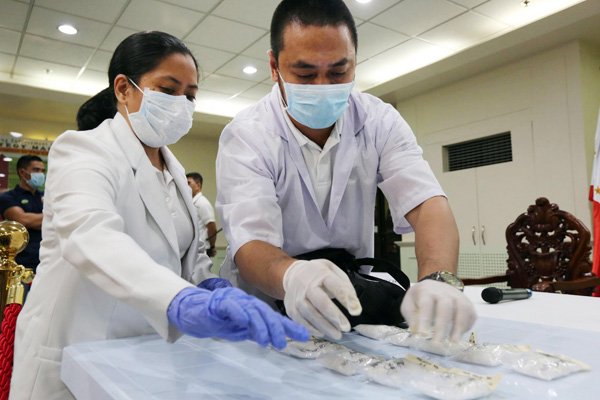 PDEA chemists taking an inventory of the packs of shabu seized from the suspects.
Boy Santos
He added that they used the term narco-terrorism to refer to any group that seeks to fight the government through the use of illegal drugs.
The two suspects allegedly transported the shabu through land travel before its distribution in Metro Manila.
Aquino said there is a lack of supply of shabu in Metro Manila so the suspects had to resort to importing their drugs from Mindanao.
A bank account that is supposedly owned by a company is also the subject of a financial investigation as Aquino claimed that this was being used to launder drug money.
There were at least eight transactions that went through this bank account and investigators have tapped the Anti-Money Laundering Council, he said.
5 others held for drugs
In Marikina City, Police Officer 1 Adrian Patrick Pinalas, 29, a member of the Quezon City Police District's Public Safety Battalion, was arrested in a sting along J. Libya Extension in Barangay Nangka at past midnight yesterday.
Christian Gayl Pangilinan, 32, and Jenalyn Jeriza, 25, were also arrested during the sting.
In Quezon City, a man, his son and their neighbor were arrested during a raid on their houses along Matahimik street in Barangay Malaya yesterday afternoon.
Police seized 52 sachets of shabu with an estimated street value of P125,000 and a 9mm pistol from the houses of Marian Dacua and Ricard and Richard de Luna. The houses were allegedly used as a store and drug den for the suspects' customers from neighboring barangays, police said. – With Cecille Suerte Felipe