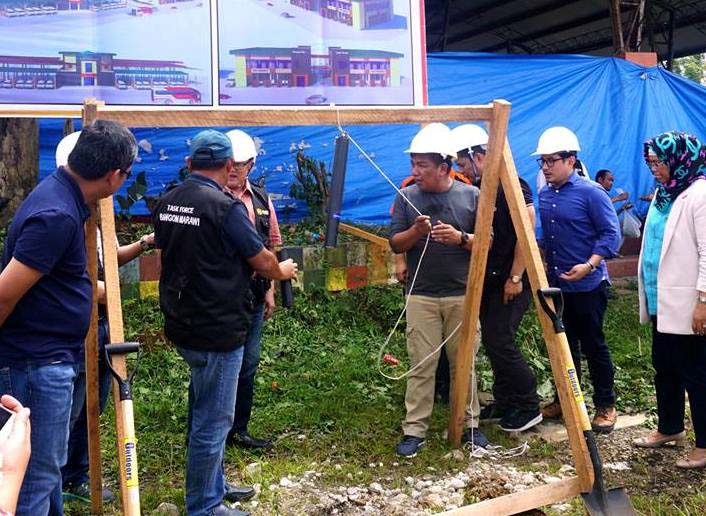 The new two new ARMM high-ticket projects in Marawi City were launched on Thursday.
Philstar.com/John Unson
Authorities assure security for Marawi rehab projects
John Unson
(Philstar.com) - March 3, 2018 - 7:10pm
LANAO DEL SUR, Philippines — Authorities will tightly secure new projects in Marawi City costing P115 million designed to hasten the area's recovery from last year's siege by Islamic State-inspired terrorists.
Chief Superintendent Graciano Mijares of the Police Regional Office-Autonomous Region in Muslim Mindanao and Lt. Gen. Carlito Galvez Jr. of the Western Mindanao Command said in separate statements Saturday that plainclothes agents will help guard the projects.
The two projects were launched on Thursday by Marawi Mayor Majul Gandamra and ARMM Gov. Mujiv Hataman.
The WestMinCom and the ARMM police are both helping push Malacañang's rehabilitation efforts in Marawi City forward.
"These new projects will complement the rehabilitation initiatives of President Rodrigo Duterte for conflict-affected families in Marawi City. We shall protect these projects from saboteurs," Galvez said Saturday.
Some 300,000 Marawi City residents where displaced in last year's five-month siege by combined Maute and Abu Sayyaf terrorists that resulted in the deaths of hundreds, among them soldiers, and left dozens of centuries-old villages in ruins.
Gandamra and Hataman led Thursday's separate launching of the P90 million worth public market project in Barangay Buadi Sacayo in Marawi City.
They also both facilitated the kickoff rite for the rehabilitation of the Marawi City hall and an adjoining health center, to be bankrolled with a P25 million allocation from the ARMM coffer.
Lanao del Sur, which has two congressional districts, and its capital, Marawi City, are component areas of ARMM, which also covers Maguindanao in central Mindanao, and the island provinces of Basilan, Sulu and Tawi-Tawi.
Mijares said he has directed the Marawi City police office to help monitor the projects sites to ensure the safety of construction workers.
"These projects will help accelerate the restoration of normalcy there. We are grateful to the proponents of these projects --- the Marawi City government and the Hataman administration," said Mijares, who was born and raised in Marawi City.
The ARMM police and units of the WestMinCom also provided security to the regional health and social welfare employees who served 896 Maranao residents in Malabang town in Lanao del Sur last Thursday.
The ARMM People's Day medical and dental outreach program in Malabang preceded Thursday's launching of the two high-ticket infrastructure projects in Marawi City, some 70 kilometers away.
Besides the health and medical services extended to Malabang residents, ARMM officials also lectured local sectoral leaders on rido (clan war) settlement.
The ARMM provinces of Lanao del Sur and Sulu accounts for most number of unsettled clan wars in the autonomous region.
The People's Day outreach mission is a regular activity of Hataman's office.
The ARMM government will also conduct a series of People's Day activities in Basilan starting Sunday as part of the week-long commemoration of the founding anniversary of the island province, which will culminate on March 7.