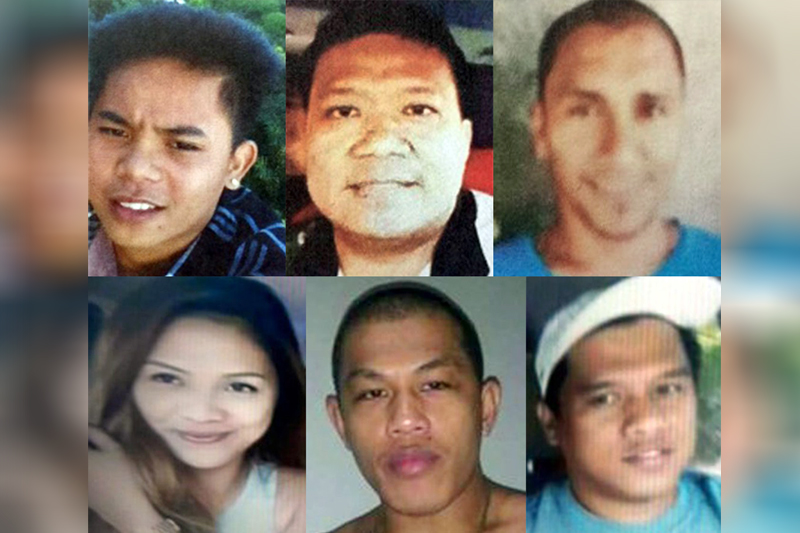 HAVE YOU SEEN THEM? Authorities have launched a manhunt for (clockwise, from top left) Anthony Ordonez, Aristotle Go Quintana, Ghakiez Tekma, Ryan Bonn dela Cruz, Noel Rosas Arangurin and Mylene de Vera.
62 PDEA agents axed for extortion
(The Philippine Star) - March 3, 2018 - 12:00am
MANILA, Philippines — A Philippine Drug Enforcement Agency (PDEA) official and 61 agents have been relieved following allegations of extortion, an official said yesterday.
PDEA Director General Aaron Aquino said he removed Region 4-A director Archie Grande and 61 of his men from their posts after Grande's office reportedly issued official identification cards to "confidential agents" arrested for extortion in Parañaque City last weekend.
Jhay-r Repana, 31, and Rosemimi Facal, 30, were apprehended following an alleged shootout with police in Parañaque. They introduced themselves as PDEA confidential agents.
Aquino said the PDEA did not employ any "confidential agents" as they only had informants and assets – and they are not issued any official identification cards.
The identification cards from the suspects were found to be legitimate and even had Grande's signature.
Director Adrian Alvariño was ordered to take over the PDEA Region 4-A office, which will be beefed up by an initial batch of 39 agents from different offices in the country.
Manhunt on for fake agents
Meanwhile, the Taguig City police launched a manhunt for six of nine drug suspects who reportedly posed as PDEA agents to illegally arrest people and extort money from them.
Senior Superintendent Alex Santos, Taguig police chief, said six of nine fake PDEA agents – Ghakiez Tekma, Aristotle Go Quintana, Mylene de Vera, Ryan Bonn dela Cruz, Anthony Ordonez and Noel Rosas Arangurin – were identified as the same ones who allegedly arrested a man in Barangay Ususan on Feb. 4.
Santos said these six suspects were also involved in an illegal operation in Barangay Ususan on Feb. 18, wherein they were caught getting off two black vans – a Mitsubishi Montero (NZI 593) and a Toyota Hilux (UGQ 317) – all of them wearing PDEA uniforms.
He said the suspects have been charged with kidnapping, robbery, usurpation of authority and violation of Republic Act 7610, the anti-child abuse law.
Chief Inspector Ramon Christian Laygo, Taguig police investigation chief, said the suspects were identified by three victims and two witnesses based on their photos obtained from the rogues' gallery of the Quezon City Police District.
"They have records at the Cubao police station and it turned out that they are drug personalities in the area," he said.
He said the suspects' target was in Taguig City, but they failed to get him after they grabbed the wrong person.