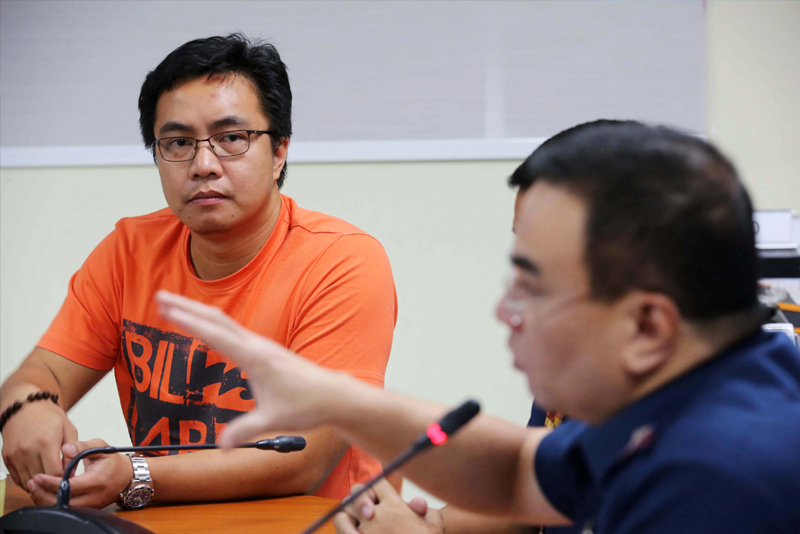 Cabatbat is talking to Chief Superintendent Guillermo Eleazar about the attack, during which suspect Police Officer 1 Mark Ayeras was killed.
Lawyer survives ambush in QC
MANILA, Philippines — A lawyer and his companions survived an ambush and killed one of their attackers, a policeman who had gone AWOL or absent without leave, in Quezon City at past midnight yesterday.
Lawyer Argel Joseph Cabatbat, 33, was in a Mitsubishi Montero with his driver, a certain Ardee, and two other companions when they were attacked at around 12:30 a.m. along the northbound lane of EDSA at the corner of East Avenue in Barangay Pinyahan.
The assailants, riding separate motorcycles, drove up next to Cabatbat's vehicle and opened fire. One of the lawyer's companions took out a 9mm pistol and retaliated.
A running gun battle ensued and ended in the vicinity of Trinoma Mall in Barangay Bagong Pag-asa.
One of suspects sustained a gunshot wound in the right side of the body and ran over by Cabatbat's vehicle.
Probers identified him as Police Officer 1 Mark Ayeras, 32, through an identification card found in his possession. He was pronounced dead on arrival at East Avenue Medical Center (EAMC).
Quezon City Police District (QCPD) director Chief Superintendent Guillermo Eleazar said Ayeras went AWOL after he was reassigned to the Regional Public Safety Battalion of the National Capital Region Police Office on Oct. 2, 2017.
Records show Ayeras also had stints at the QCPD and Southern Police District.
"We are looking at the possibility he was a gun-for-hire," Eleazar said a phone interview.
The other suspect, 27-year-old John Paul Napoles, is recuperating at EAMC from injuries to his right leg after he was bumped by a passing vehicle.
Napoles refused to give a statement to the police and is uncooperative in the ongoing investigation, Eleazar said.
Probers recovered a .45 caliber pistol from Napoles while a 9mm handgun was retrieved from Ayeras. Fifteen bullet casings from different firearms were recovered at the scene.
Eleazar said the shooting could be related to Cabatbat's job. The lawyer told police he has been receiving death threats after the last case he handled in Mindanao wherein a physician was stripped of his license.
"The doctor was facing a case of bigamy," he said.