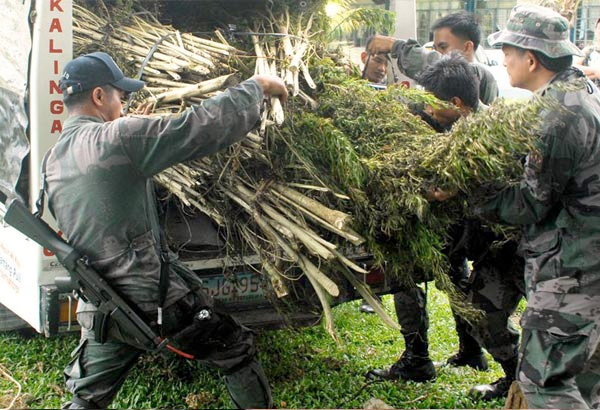 P14.5M in marijuana burned on Kalinga peak
BENGUET, Philippines — Authorities torched some P14.5 million worth of marijuana plants, leaves and powder on Mount Chumanchil in Tinglayan town, Kalinga.
Three plantations of fully grown marijuana plants valued at P6.1 million were set ablaze by soldiers from the Philippine Army's 50th Infantry Battalion, Philippine Drug Enforcement Agency-Cagayan region and police officers from Tinglayan and from the Cordillera and Kalinga offices. The three plantation sites spanned 5,200 square meters.
On Monday, authorities again discovered two more marijuana plantation sites covering around 1,100 square meters and worth at least P3.9 million. They also found 40 kilograms of dried marijuana leaves worth P5 million and 2 kg of marijuana powder valued at P500,000.00
In August 2016, authorities set fire to at least 80 hectares of marijuana plantation on Mount Chumanchil.
Kalinga Gov. Jocel Baac earlier confirmed the proliferation of illegal marijuana plantations in Barangay Loccong . He said there were socio-economic factors behind the cultivation of marijuana despite prohibition.
Illegal marijuana plantations have been in the area since Fidel Ramos was chief of the Philippine Constabulary, he said. Ramos, who later became armed forces chief, was president from 1992 to 1998. "Even during his time, illegal plantations were being torched," the governor said in Filipino.
"The problem is every time they burn or uproot, the seeds are scattered. According to residents, they sprout when it rains," he also said.
He said government road and irrigation projects in the area would help villagers turn to legal agriculture.
Baac however denied that all residents within the Mt. Chumanchil complex in Tinglayan are involved in marijuana cultivation. "The plants just grow there," he said.
But PDEA-Cordillera said authorities had found small makeshift huts in the plantations indicating people have been tending the plants.
The Cordillera police tagged Kalinga seven years ago as the next hotspot for marijuana cultivation in the region.
Benguet — particularly Kibungan, Bakun and its boundaries with La Union and Ilocos Sur — meanwhile has long been considered Northern Luzon's "green gold" hotspot because of the high quality of marijuana illicitly grown there.