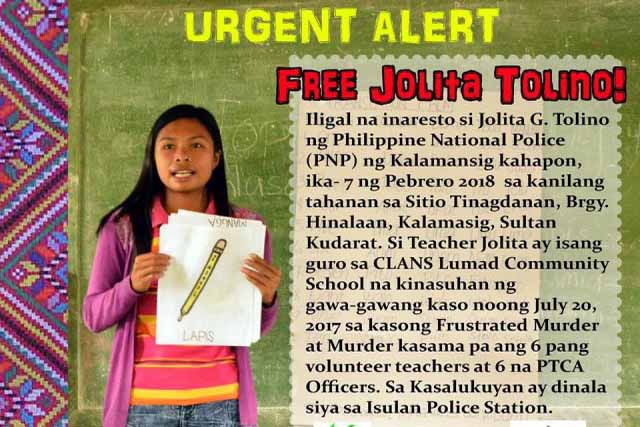 Center for Lumad Advocacy Networking and Services Inc. said Jolita Tolino, a teacher for its Lumad Community School was arrested by the Philippine National Police in Kalamansig on Wednesday. ALCADEV Lumad School, Twitter
Lumad group seeks to free 'illegally arrested' teacher in Sultan Kudarat
(Philstar.com) - February 8, 2018 - 9:55pm
MANILA, Philippines — A Lumad group on Thursday called for the release of a teacher allegedly illegally arrested in Sultan Kudarat for criminal charges in 2017.
Center for Lumad Advocacy Networking and Services Inc. (CLANS) said Jolita Tolina, a teacher for its Lumad Community School was arrested by the Philippine National Police in Kalamansig on Wednesday. She was apprehended in her home.
Tolino was charged with frustrated murder and murder over a clash between the communist rebels and Marines. Six volunteer teachers and six Parent-Teacher Community Association officers were also charged due to the encounter.
The clash resulted in the death of Private Alvino Bahian and injured nine others, including Staff Sergeant Alexander Falcasantos; Corporals Castle Camu, Robert Paul de Asis, Joseph Accad and Marlon Ampao; Privates First Class Dave Calaycay and Glen Genova; and Privates Randy Borromeo and Jared Sugaguil.
Tolino was brought to the Isulan Police Station and was reportedly up for arraignment.
A report from Interaksyon said Tolino's arrest came as the Solidarity Action Group for Indigenous Peoples and Peasants expressed alarm over President Rodrigo Duterte's recent statements, which they said appeared to be "geared at turning communities in Davao Region into (the government's) next battleground after Marawi."
According to the report, Tolino and the charged teachers and officers namely Cheryl Tolino, Junifer Tawan, Alma Salaya, Wally Gugo, Gina Ciano and Antonette Kampir (who is identified as Kampian in the warrant) were listed in the warrant of arrest. The PTCA officers Gawa Gantangan, Kolon Makinsi, Godofredo Gantangan, Alberto Nebres and Tirso Sakudal were also included on the list.
The accused were allegedly among the guerillas who ambushed a platoon of the Marine Battalion Landing Team 2 on March 20 last year.
CLANS, however, claimed the case against Tolino was just invented.
URGENT ALERT!!!

Lumad teacher illegally arrested over trumped up charges in Sultan Kudarat! #SaveLumadSchools pic.twitter.com/Txb3HF7hXe

— ALCADEV Lumad School (@alcadevinc) February 8, 2018