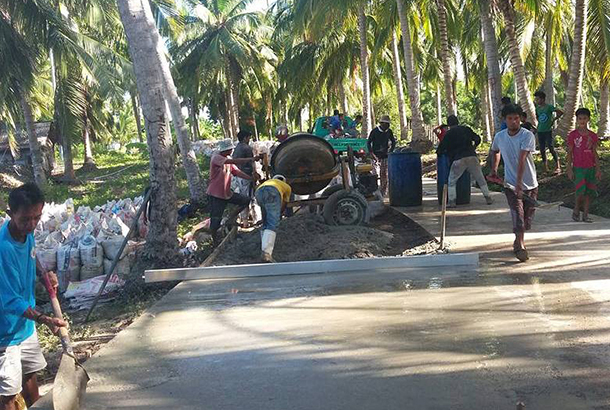 The Abu Sayyaf has been trying to delay the construction of more roads, schools and agricultural facilities in remote Basilan barangays. John Unson, file
Military to secure Basilan infa projects, workers vs Abu Sayyaf
John Unson
(Philstar.com) - February 7, 2018 - 1:22pm
COTABATO CITY, Philippines — The military has assured personnel of the Basilan District Engineering Office of protection from bandits trying to sabotage infrastructure projects in the island province.
Last week, two Basilan DEO workers were killed in an ambush in Lamitan City last week by members of the Abu Sayyaf. Two others were seriously wounded in the attack.
The Islamic State-inspired Abu Sayyaf has been trying to delay the construction of more roads, schools and agricultural facilities in remote Basilan barangays where its members collect money from residents at gunpoint.
Lt. Gen. Carlito Galvez, Jr. of the Western Mindanao Command said Wednesday he has reiterated a standing order for military units in Basilan to secure all Autonomous Region in Muslim Mindanao projects from sabotage.
Basilan is a component province of the Autonomous Region in Muslim Mindanao.
"They are angry because their camps have become within easy reach of police and military forces as a positive outcome of the implementation in Basilan of road projects by the present ARMM administration," Galvez said Wednesday.
Galvez said it was for the livelihood opportunities generated by the ARMM infrastructure projects that more than a hundred Abu Sayyaf members in Basilan decided to return to the fold of law in the past 16 months.
"Remnants of this group are trying their best to stop the construction of more roads that would traverse the remaining areas where they can freely roam. We have intensified our security efforts to prevent them from executing their bad plans," Galvez said.
Galvez said intelligence agents are also helping now protect Basilan's district engineer, Soler Undug, whose house was bombed by Abu Sayyaf bandits last week.
"We are not taking chances. Engineer Undug and his subordinates are in the forefront of all these infrastructure development initiatives in Basilan," Galvez said.
It was the Abu Sayyaf's fourth attempt to kill Undug using improvised explosive devices in about three years.