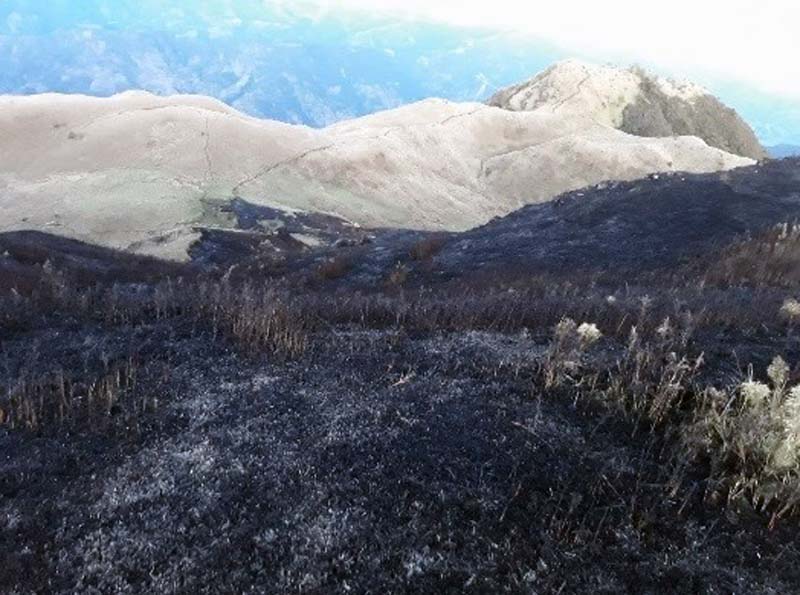 Park manager Teber Dinisio said a criminal complaint is being readied against the hiker. Bureau of Fire Protection
Damaged Mount Pulag peak off limits after brush fire
BAGUIO CITY, Philippines — The summit of Mount Pulag, a haven for trekkers, is still closed to visitors because of damage from brush and forest fires last Saturday.
The Protected Areas Management Board for Mount Pulag has suspended all hiking and trekking activities on Luzon's highest peak indefinitely.
Pulag, at over 2,900 meters above sea level, is the highest peak in the Philippines after Mount Apo in the Davao region.
A forest fire on Saturday night razed around 1.5 hectares of grassland on the mountain.
According to reports, a hiker's butane gas stove caught fire, prompting a companion to throw it away in panic. The stove landed in the grass, which quickly caught fire.
The massive fire affected all camp sites and peaks along the grassland area.
Tourists and visitors who were already on the mountain Saturday night were told to head to the ranger station at Babadak for safety.
As of Tuesday morning, the summit is still closed but hikers and treks are allowed to Peaks 2 to 4, Tower and Grassland via the Badadak Trail or
Ambangeg route.
Park manager Teber Dinisio said a criminal complaint is being readied against the hiker.