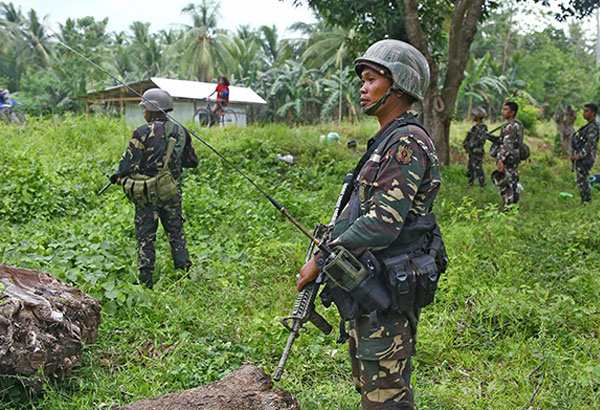 Troops recovered gun parts, 293 rounds of 5.56 mm ammunition and 254 rounds of 7.62 mm from the area. AFP, file
Troops pursue bandit group in Zamboanga del Norte
ZAMBOANGA CITY, Philippines — Troops in Zamboanga del Norte are in pursuit of a bandit group believed to have been harassing and extorting money from residents of Kalawit town.
Maj. Ronald Suscano, spokesperson of the Army's 1st Infantry Division, said fighting erupted Friday morning when five soldiers from the 42nd Infantry Battalion and 20 militia men clashed on Friday with the Suminggal lawless group at Barangay Poblacion.
Suscano said the soldiers were on patrol when they encountered the armed group led by Monib Aquilan, triggering a 30-minute firefight.
"Based on reports from ground troops there was no reported casualties but several war materials were recovered that were forcibly abandoned by the retreating armed group," Suscano said.
Troops recovered gun parts, 293 rounds of 5.56 mm ammunition and 254 rounds of 7.62 mm from the area.
The 42nd IB under Lt. Col. Danilo Ambe conducted pursuit operation to track down and neutralize group blamed on the extortion and harassment on villagers.
Suscano said the Suminggal group operates in the southern part of Zamboanga del Norte, where it is engaged in extortion and land grabbing.