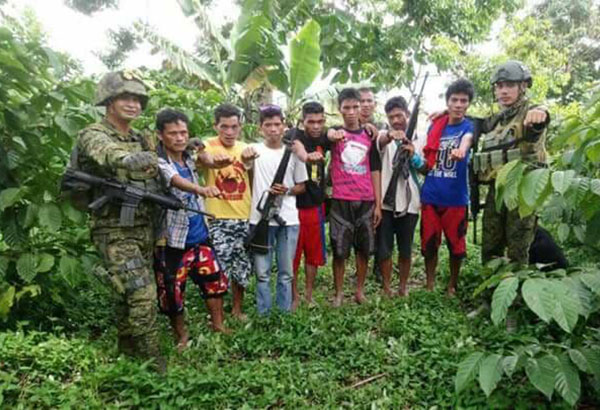 The AFP said in December 2017 that more than 500 rebel returnees availed of the government's Comprehensive Local Integral Program last year. File
Duterte gives regional NDFP spokesman aid after surrender
(philstar.com) - January 22, 2018 - 9:50am
MANILA, Philippines — President Rodrigo Duterte met with a former National Democratic Front of the Philippines spokesman over the weekend to promise government assistance, the Office of the Presidential Adviser on the Peace Process said Sunday.
In a statement, Presidential Peace Adviser Jesus Dureza said the president met with Nilo Legaspi, the spokesperson of the NDFP Far South Mindanao Region who surrendered to the government last week along with his wife, in Davao City over the weekend.
Dureza said Duterte "asked Nilo Legaspi, who was taken in Tulunan through the efforts of Governor Daisy Fuentes, that he should communicate the efforts of the government now to his former comrades who are still there fighting for a 'lost cause' after being misled by the principles of Marxism and Maoism that are even abandoned by their proponents and sponsors in all parts of the world."
The government terminated peace talks with the CPP-NPA-NDFP in late November 2017 after being stalled since July of that year. The president decided to scrap the talks in response to NPA attacks on government forces. One attack in Bukidnon province left a baby caught in the crossfire dead.
Dureza said the president also said a message "should be sent to those rebels to respect the decisions of their comrades who abandoned their ranks after realizing the futility of their cause."
Aside from Legaspi and his wife Wendy, two members of the NPA Guerrilla Front 27 in Compostela Valley also surrendered to authorities last week.
The Armed Forces of the Philippines said in December that 531 NPA rebels had surrendered to authorities since February 2017. Five of those who surrendered were from NPA units in the Ilocos Region and the rest were from the Visayas and Mindanao.
The government has cited the continued operations of the NPA as one of the justifications for the extension of martial law in Mindanao. The extension has been brought to the Supreme Court, which has been asked to decide on whether the year-long extension violates the 1987 Constitution.
Dureza said the president also gave the couple "a new house through a certificate of award, a [Department of Interior and Local Government-Department of Trade and Industry]-sponsored 'e-CLIP' for returnees, with additional cash from the president's own fund to start a new life."
The CLIP, or the Comprehensive Local Integration Program, is a government financial assistance and skills training package to help rebel "returnees" go back to regular life.
Dureza said the Department of Social Welfare and Development also gave the couple additional benefits and assistance.