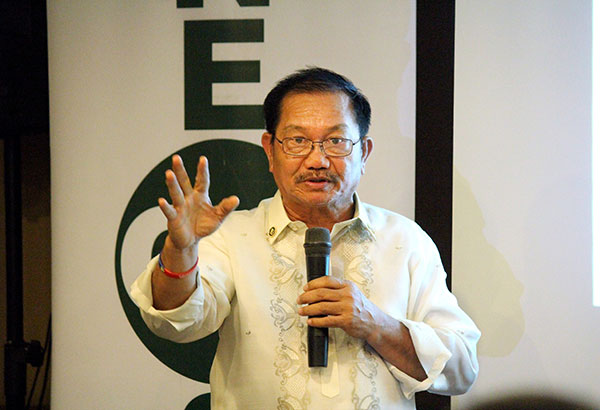 "I shall only anoint candidates who are ready to work hard for the political, cultural and religious solidarity of North Cotabato's tri-people residents," Agriculture Secretary Emmanuel Piñol said. File photo
DA chief Piñol named chair of PDP-Laban in North Cotabato
John Unson
(philstar.com) - January 18, 2018 - 9:40am
NORTH COTABATO, Philippines — Agriculture Secretary Emmanuel Piñol said Thursday he will focus his leadership of the PDP-Laban in North Cotabato on propagating harmony among "tri-people" communities.
The "tri-people" refers to southern Muslim, Christian and Lumad residents.
Piñol was sworn in as provincial chairman of PDP-Laban for North Cotabato by Senate President Aquilino "Koko" Pimentel III, party president, in Manila on Wednesday.
"I will do my best not to let the party down. This is a big vote of confidence for me," Pinol told The STAR via mobile phone Thursday.
Piñol, who hails from M'lang town in North Cotabato, was governor of the province for three consecutive terms from 1998 to 2007. He was also vice governor from 2007 to 2010.
"While my position in the PDP-Laban is only a provincial level post, I consider it something pivotal in introducing political reforms in my province," Piñol said.
Piñol, as provincial PDP-Laban leader, will have a key role in selecting candidates for local elections.
"I shall only anoint candidates who are ready to work hard for the political, cultural and religious solidarity of North Cotabato's tri-people residents," he said.
'Not anti-Moro'
He said he will require local party members to reach out to the Moro Islamic Liberation Front and the Moro National Liberation Front in support of President Rodrigo Duterte's peace efforts.
"I have smoked the proverbial peace pipe with the MILF that detested my leadership of the province in the past over an undue impression that I was anti-Moro. I was never an anti-Moro elected leader then," he said.
Piñol, in 2008, was a petitioner against attempts by the Arroyo administration and the MILF for a Memorandum of Agreement on Ancestral Domain as part of the peace process. A temporary restraining order against the signing of the agreement, which the Supreme Court later found unconstitutional, sparked fighting in North Cotabato and parts of the Autonomous Region in Muslim Mindanao.
Piñol visited the MILF's Camp Darapanan in Sultan Kudarat town in Maguindanao in 2016 to assure the group of his readiness to provide farmers in MILF communities with agricultural assistance.
The Agriculture secretary said President Rodrigo Duterte is keen on ensuring peaceful and clean elections in 2019.
"President Duterte was empathic in stating his resolve to ensure clean elections in 2019," he said.