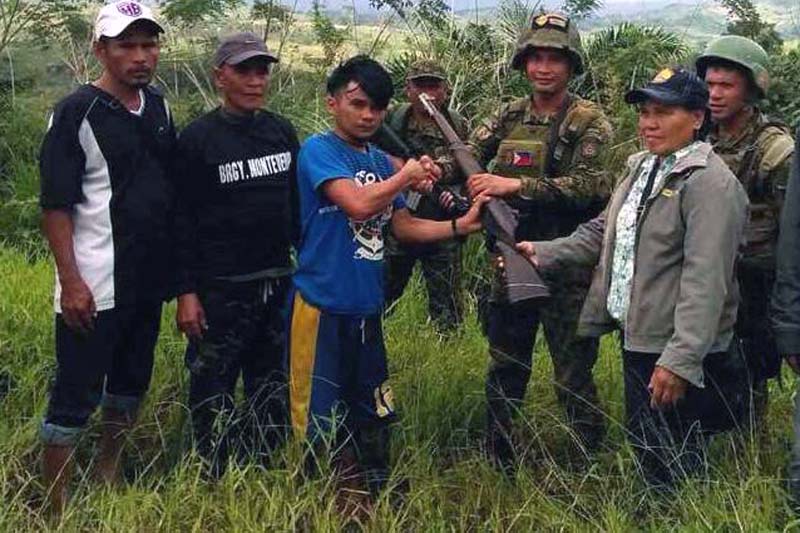 In this December 12 file photo, members of the communist New People's Army surrender to authorities. John Unson, file
5 NPAs surrender to Army in Maguindanao
John Unson
(philstar.com) - January 14, 2018 - 2:00pm
MAGUINDANAO, Philippines — Five guerrillas from a New People's Army unit collecting "protection money" from traders surrendered to the military on Saturday.
The rebels decided to avail of the government's amnesty program for NPAs through the Army's 1st Mechanized Infantry Battalion based in Ampatuan town in the second district of Maguindanao.
Sing Maguil, Daniel Fonok, Panni Sina, Marvin Ginang and Taan Ayunan of the NPA's Guerrilla Front 73 also turned in firearms and improvised explosive devices they were to use on establishments that would refuse to pay them monthly.
The five reportedly bolted from their group on January 9 and immediately sent surrender feelers to Lt. Col. Lauro Oliveros, commanding officer of the 1st Mechanized Infantry Battalion.
They formally yielded on Saturday after Oliveros assured them of the government's sincerity in dealing with rebels wishing to return to mainstream society.
More than 80 NPAs surrendered in batches last year to Lt. Col. Harold Cabunoc of the Army's 33rd Infantry Battalion, which is based in President Quirino in Sultan Kudarat.