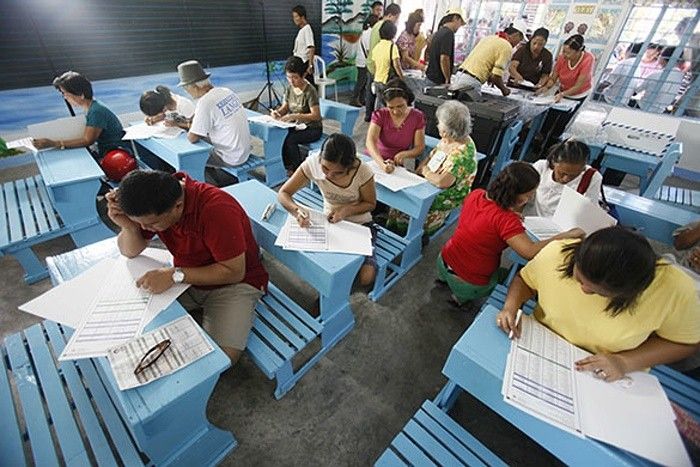 Comelec spokesman James Jimenez said the public hearings would give "equal opportunity" to interested parties following Congress' approval of a joint resolution extending martial law in Mindanao for another year. Philstar.com/File Photo
Public hearings on barangay poll deferment set
MANILA, Philippines — The Commission on Elections (Comelec) will hold public hearings on the possibility of postponing the barangay and Sangguniang Kabataan (SK) elections in Mindanao.
Comelec spokesman James Jimenez said the public hearings would give "equal opportunity" to interested parties following Congress' approval of a joint resolution extending martial law in Mindanao for another year.
The poll body recently approved a resolution setting the public hearings on Jan. 22 on 700 Gov. Carmins Avenue, Zamboanga City and Jan. 29 at the Alnor Hotel and Convention Center in Cotabato City.
The Comelec said another public hearing could be held in Cagayan de Oro.
"Pursuant to Section 5, Article 1 of the Omnibus Election Code, the Comelec may...postpone elections in a particular location after due notice and hearing...when the holding of free, orderly and honest elections should become impossible due to any serious cause such as violence, terrorism, loss or destruction of election paraphernalia or records, force majeure and other analogous causes of such nature," the resolution declared.
In a joint session last Dec. 12, senators and congressmen voted 240-27 to approve Joint Resolution 13, extending martial law in Mindanao from Jan. 1 to Dec. 31, 2018.
President Duterte signed Republic Act 10952 postponing the barangay and SK elections to the second Monday of May this year.
The elections were initially scheduled last Oct. 23.