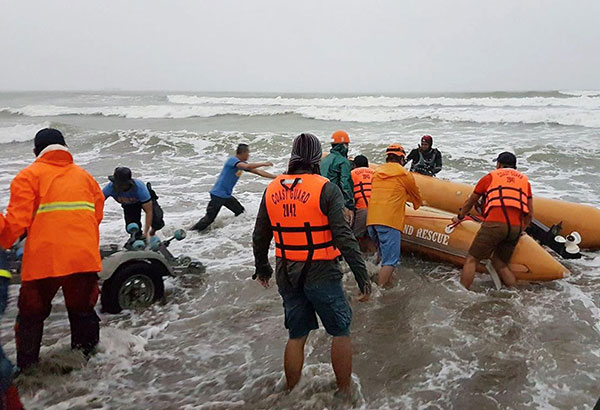 Police and Coast Guard personnel prepare to conduct search and rescue operations for crewmembers of a cargo ship that capsized off Northern Samar on Tuesday in this photo provided by the PCG-Eastern Visayas.
Cargo vessel sinks; 9 rescued
MANILA, Philippines — Nine Chinese crewmembers of a cargo ship that sank off Northern Samar were rescued on Tuesday afternoon.
Capt. Gregorio Adel Jr., Philippine Coast Guard (PCG)-Eastern Visayas commander, said six of the crewmembers are citizens of China, two of Hong Kong and one of Taiwan.
Adel said the PCG station in Northern Samar deployed search and rescue teams after they received a distress call at around 12:30 p.m. that M/V Jin-Ming Nr. 16 was sinking.
The ship, which left China on Dec. 12, was bound for Chile.
Adel said five crewmembers were rescued by PCG and Office of Civil Defense personnel some 400 meters away from the shoreline of Pambujan town at about 5 p.m.
The remaining crewmembers were rescued after an hour.
The crewmembers underwent medical checkup at the Pambujan rural health unit and spent the night at the house of Mayor Felipe Sosing.
"While Tropical Depression Agaton affected the Samar area, it is still not certain if the ship's problems started when it was passing through Samar. It is possible that…it was only while traversing Samar that the crewmembers found out that there was water in the engine room," Adel said.
He said personnel of the Marine Environment Protection Unit went to the area to check if the sinking of the ship resulted in an oil spill.
The PCG-Eastern Visayas also created an investigation team to look into the accident. – With Miriam Desacada, Jaime Laude