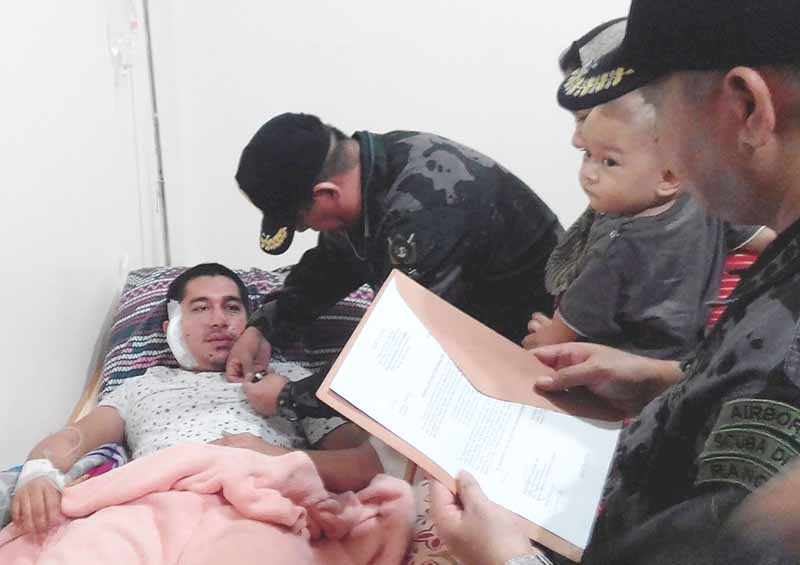 The policemen injured in a roadside bombing in Maguindanao on December 31 received medals and cash assistance from the Police Regional Office-Autonomous Region in Muslim Mindanao. Philstar.com/John Unson
5 injured Maguindanao cops receive citation medals
John Unson
(philstar.com) - January 3, 2018 - 2:54pm
MAGUINDANAO, Philippines — Five police officers injured in a roadside bombing Sunday night have received awards for commitment to service.
Chief Superintendent Graciano Mijares of the Police Regional Office-Autonomous Region in Muslim Mindanao awarded them with citation medals Tuesday during a visit to the Maguindanao Provincial Hospital in Shariff Aguak town.
The blast victims, PO3 Jalison Abdullah, PO1 Archie Ansari Amelista, PO1 Ricardo Almonia, PO1 Alimodin Nuphay and PO1 Zainodin Abdullah, all belong to the Shariff Aguak municipal police office.
They were on their way to a secluded barangay to check a reported incursion of members of the Bangsamoro Islamic Freedom Fighters when a roadside bomb exploded while their vehicle was maneuvering through a road leading to the area.
Their companion, SPO4 Max Kaibat, was not as lucky. He died from multiple shrapnel wounds.
Besides the medals, Mijares also provided his injured subordinates and the family of Kaibat with financial assistance.
Local officials in Shariff Aguak have blamed the BIFF for the bombing.
Mijares said investigators are now trying to identify the bombers with the help of Moro community elders for them to be prosecuted for their offense.