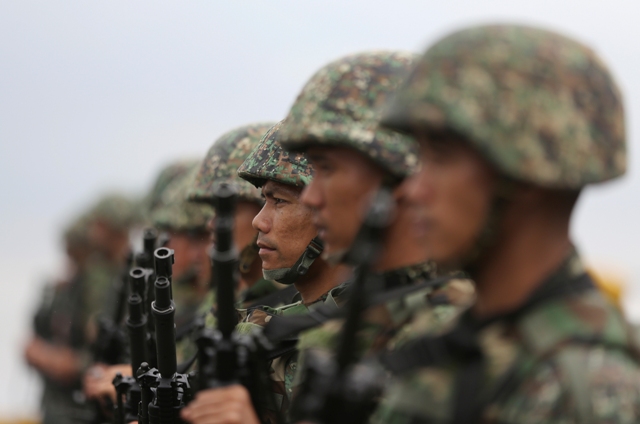 Maj. Gen. Noel Clement, commander of the 10th Infantry Battalion based in Mawab, Compostela Valley, said the resumption of military offensives follows the end of the holiday ceasefire unilaterally declared by both parties. File
AFP to resume offensive vs NPA as truce ends
Jaime Laude
(The Philippine Star) - January 3, 2018 - 12:00am
MANILA, Philippines — The military will resume combat operations against the New People's Army (NPA) today.
Maj. Gen. Noel Clement, commander of the 10th Infantry Battalion based in Mawab, Compostela Valley, said the resumption of military offensives follows the end of the holiday ceasefire unilaterally declared by both parties.
"This is the best time to end this problem and let our country develop and improve the lives of the people," Clement said.
Malacañang declared a ceasefire from 6 p.m. of Dec. 23 to 11:59 p.m. of Dec. 26, and from 6 p.m. of Dec. 30 until 11:59 p.m. of Jan. 2.
The NPA declared a unilateral ceasefire from 6 p.m. of Dec. 23 to 6 p.m. of Dec. 26 and 6 p.m. of Dec. 30 to 6 p.m. of Jan. 2.
Arsenio Andolong, Department of National Defense spokesman, said soldiers were set to hit the ground running again at 11:59 last night.
"We will resume combat operations unless the commander-in-chief orders otherwise," Andolong said.
He said addressing the communist insurgency remains a priority of the military, noting that the peace and order situation is critical to the country's development.
"Some...local economies are not prospering because of the activities of terrorists, especially those engaged in kidnapping, arson and extortion," Andolong said.
The military said the strength of the NPA is down to only 3,800 compared to 24,000 from the 1980s to the '90s.
'Prove good faith'
As this developed, Malacañang challenged the communists anew to "prove good faith" after Communist Party of the Philippines founder Jose Ma. Sison urged President Duterte anew to resume peace talks.
"They need to show and prove good faith....Despite the ceasefire, they attacked our soldiers," presidential spokesman Harry Roque said, referring to the recent encounter in Compostela Valley.
'Lay more bricks for peace'
In a statement, Presidential Adviser on the Peace Process Jesus Dureza stressed the need to "lay more bricks for peace."
Dureza said the peace process is a "never-ending work."
"Challenges are aplenty, some insurmountable, but that's part of the whole process. Let's help lay more bricks. Those next after us will surely carry on," he said.
"Building blocks...have been erected since peace efforts started many, many years ago by those who came before us," Dureza said. "Those bricks are there, intact, in place and are just waiting for more bricks to be laid." – With Jose Rodel Clapano, Alexis Romero