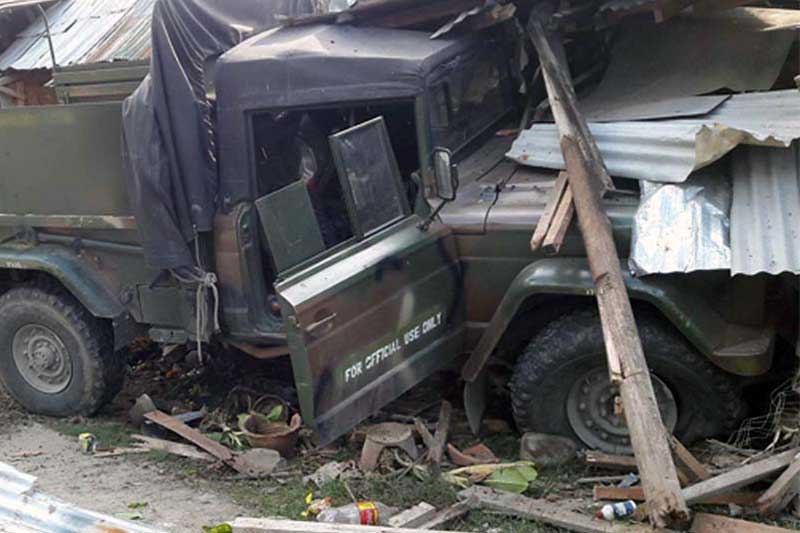 An Army utility truck hit by an IED believed set up by the Bangsamoro Islamic Freedom Fighters. John Unson
Cop killed, 7 injured in Maguindanao IED blasts
John Unson
(Philstar.com) - January 1, 2018 - 1:20pm
MAGUINDANAO, Philippine — A police officer was killed while seven others, two of them soldiers, were injured in two roadside bombings in a span of 13 hours.
The military and key members of different municipal peace and order councils have blamed the outlawed Bangsamoro Islamic Freedom Fighters for the attacks.
SPO4 Max Kaibat died from shrapnel wounds sustained in the first explosion.
Kaibat and his companions were onboard a patrol vehicle out on Sunday night to verify reported sightings of BIFF gunmen at the boundary of Maguindanao's adjoining Datu Hoffer and Shariff Aguak towns when an improvised explosive device went off along the route.
Five others — PO3 Jalison Abdullah, PO1 Archie Ansari Amelista, PO1 Ricardo Almonia, PO1 Alimodin Nuphay and PO1 Zainodin Abdullah — were injured in the blast.
Kaibat and his wounded colleagues all belong to the Shariff Aguak municipal police office.
Senior Superintendent Agustin Tello, director of the Maguindanao provincial police, on Monday said all the injured policemen are now confined in a hospital.
"They are now in stable condition," Tello said.
The BIFF have been harassing since December 25 indigenous Tedurays in communities in upland areas in Datu Hofer and in nearby Datu Unsay and Datu Saudi towns.
No fewer than a dozen houses have since been burned in one arson attack after another.
The tension in the centuries-old settlements worsened when BIFF gunmen killed tribesman Diego Dagadas using an IED.
Dagadas was known for his being vocal against the BIFF's harmful forays in Teduray villages.
The BIFF incursions the past six days displaced some 400 residents, now staying in makeshift evacuation sites.
Army truck bombed
Two soldiers, PFCs Nelmar Acaso and John Mark Roquero, were wounded in the second roadside bombing in the same area at past 8:00 a.m. Monday.
Acaso and Roquero both belong to the Army's 57th Infantry Battalion.
They were in a team on a truck hit by a roadside bomb while traversing a stretch of the road connecting Shariff Aguak and Datu Hoffer.
Tello said Acaso and Roquero were immediately rushed to a hospital by responding soldiers and personnel of the provincial police office.
"We have tightened security in the areas around the scenes of these two obviously connected bombings," Tello said.