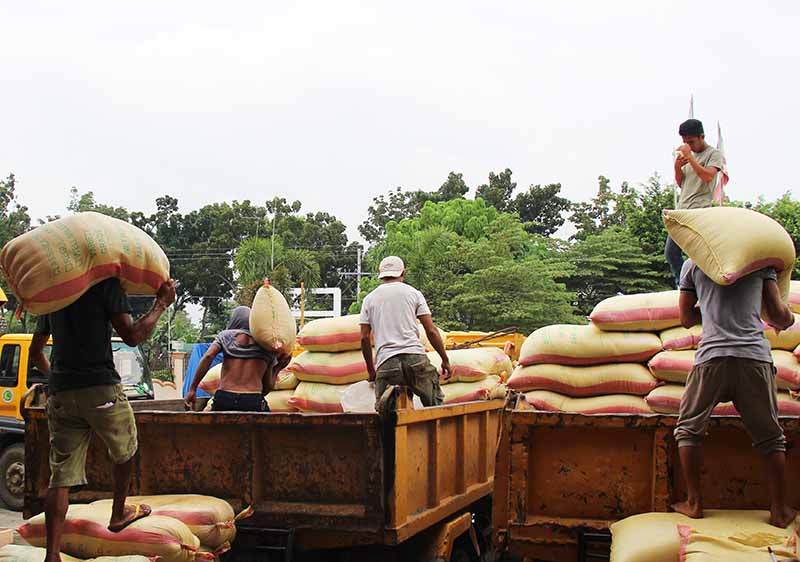 Workers load rice from the office of Maguindanao Gov. Esmael Mangudadatu for distribution to conflict stricken villagers in the province. Philstar.com/John Unson
ARMM to give aid to families displaced in BIFF attack
John Unson
(philstar.com) - December 30, 2017 - 4:50pm
MAGUINDANAO, Philippines — Relief agencies are scrambling to assist 285 indigenous Teduray families displaced by attacks by the Bangsamoro Islamic Freedom Fighters.
The displaced non-Muslim villagers are now in makeshift relief sites in Barangay Limpongo in Datu Hofer, Maguindanao and in nearby areas far from reach by BIFF gunmen.
In a report Saturday to ARMM Gov. Mujiv Hataman of the Autonomous Region in Muslim Mindanao, Fatima Kanakan, director of the Office on Southern Cultural Communities-ARMM, said besides food, the evacuees also need tarpaulins they can cut into tents as temporary shelters.
Kanakan toured Saturday morning, along with police and Army officials, the conflict-stricken areas at the border of Datu Hoffer and Datu Unsay towns in the second district of Maguindanao to validate the reported displacement of local residents due to harassments by BIFF gunmen.
The trouble in the affected areas started with the BIFF's harassment of a detachment of the Army's 57th Infantry Battalion and subsequent burning of houses of Teduray families at the periphery of Mt. Firis on December 25.
Mt. Firis, a sacred site for ethnic Tedurays, is located in a mountain range surrounded by Maguindanao's neighboring Datu Hoffer, Datu Unsay, Datu Saudi and South Upi towns.
The office of Maguindanao Gov. Esmael Mangudadatu has initially distributed more than 50 bags of rice to the displaced villagers through the provincial government's emergency response team.
Mangudadatu said he will also dispatch the provincial medical team to extend health services to the Teduray evacuees.
Hataman said their Humanitarian Emergency Assistance and Response Team, most known in the autonomous region as HEART, will provide the Teduray evacuees with food and other relief provisions.
Hataman, chairman of ARMM's regional peace and order council, said he has requested Chief Supt. Graciano Mijares, the region's police director, to beef up the police units protecting the conflict-stricken villages.
There is BIFF presence in areas around the hinterland Teduray tribal enclaves in the troubled towns.
The tension in the Teduray communities escalated when BIFF gunmen killed using an improvised explosive device community leader Diego Dagadas after Christmas Day.
All three factions in the BIFF are using the Islamic State flag as revolutionary banner.
The group is not covered by the 1997 interim ceasefire accord between the government and the Moro Islamic Liberation Front.
The MILF had earlier figured in deadly clashes with a third faction in the BIFF, the one lead by Esmael Abdulmalik, also known as Abu Toraife, for attempting to recruit members in areas covered by the security pact.
The MILF and the government are bound by the agreement to cooperate in addressing security concerns in conflict flashpoint areas.
The MILF offensives against the group of Abdulmalik in Maguindanao that lasted from late June to August forced him and his men to relocate to Carmen town in North Cotabato.